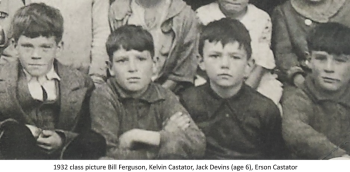 Back in 1950, Jack Devins was a 24 year old young man working on his father's (John R. Devins) Islington Ave farm. As a child growing up in the 1930's, young Jack attended Emery Public School located on the northeast corner of Finch and Weston Rd. Devins' closest childhood pals were fellow classmates Roger Wallace, Ray Castator and Bruce McClure.
Each day, Devins would call on Bruce McClure who lived on a farm on the south side of Finch and Islington. The two boys would walk 1¼ mile to school along a bumpy dirt road named the Emery Sideroad (Finch Avenue West). During summer months, the boys often went swimming in the Humber River at the south end of the McClure farm. They would gleefully run off the highest bank into the swimming hole that was located just south of modern day Islay Court.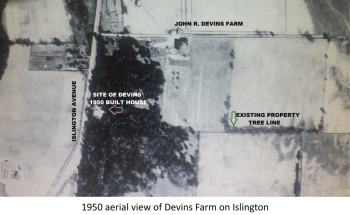 The Devins family farm was situated 400 metres north of Finch on the east side of Islington Avenue. The house and barn were accessed by a laneway very close to where Milady Road intersects Islington today. The Devins' neighbours to the south were the Rowntrees.
John Thomas Devins and Margaret Parsons originally acquired this family farm from the Parsons estate in 1916. In 1918, John T. and Margaret Devins transported the original Parsons farmhouse on the property and moved it closer to Islington Avenue. They rolled the house westward 200 metres with a team of oxen using smooth-edged logs as rollers.
Their son, John R. Devins and his wife Cora, eventually ran the dairy farm operation on the 100 acres. The Devins had two children, Jack and Margaret. The farm had significant sections of grain, potatoes and corn that were used primarily to feed their Holstein cattle. They also had fruit trees they grew close to their home, primarily used for household consumption.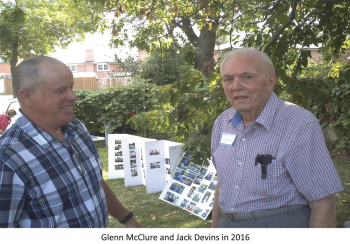 The Devins farm encompassed the land of modern-day streets Benrubin, Firenza, Goldsboro, Navenby and certain sections of Gracedale, Milady and Duncanwoods. One of the easement property lines that separated the Rowntree farm from the Devins farm is still visible today as a line of large mature trees. These trees tower magnificently beside the bocce courts in the south end of Gracedale Park.
In 1949, Jack Devins became engaged to Bertie Forster and the young couple decided to build themselves a brand new home just north of the Rowntree/Devins property line on Islington.
Jack Devins began cutting into a thick section of pine trees around the crest of the hill on Islington Avenue. By 1950, Devins had finished clearing away an area 50 metres south of his father's laneway where the foundation of his new home would be formed.
By 1951, Devins' new home was completed. The home had three bedrooms, a sizeable front living room (complete with fireplace) and a rear deck room used as a piano room.
In 1954, Hurricane Hazel hit our community with full force. On the morning after the hurricane, Jack Devins awoke to the sound of a roar. He travelled down the hill to the base of Islington and Finch and looked at what he described as a lake. He began using his own loader and with undamaged sand began to assist workers in filling in a section of Albion Road, southeast of Islington. He worked all day and night to assist making repairs to the area.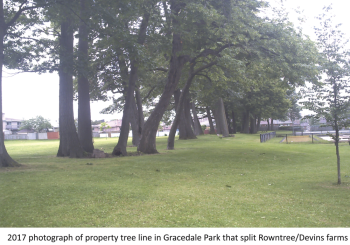 Jack and his father had decided they would work their two individual farms but run them as one. However in 1954, his father John R. Devins suffered a stroke and wasn't able to physically run his own farm anymore. Jack's father came up with an alternative brilliant idea. Why not sell dirt instead?
He noticed there was a great deal of subdivision building happening during this time in nearby Etobicoke. He acted on a hunch that builders may require good topsoil for their construction projects. Devins also had a parcel of land adjacent to Islington where a large quantity of sand lay. He instructed his son Jack to put an ad in the newspaper announcing, Topsoil for Sale. The elder Devins was right. Almost immediately, builders began lining up for local, high-quality Devins topsoil and sand. By the late 1950's, Jack Devins enlarged his operation, completely removing all the topsoil from his farm. He sold nearly all of it to destitute builders, mainly from Etobicoke.
In February 1959 Jack's father, John R. Devins, passed away after enduring a lengthy illness. Jack Devins decided to sell the family farm and purchase a new farm, north of Toronto. In 1959, the Devins family departed Humber Summit and Emery and moved to Schomberg. Some residents of Humber Summit recall Mrs. Aitcheson residing in the Devins home on Islington after the Devins family left the area. Ninety one year old Jack Devins currently resides in London, Ontario. He continues staying active every August for the annual Memorial Day services at the Pine Ridge Cemetery located at Islington Avenue and Rowntree Mills Road.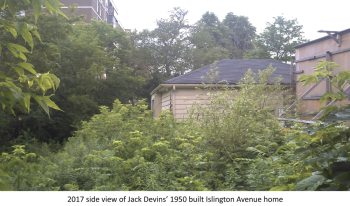 The original home that Jack Devins built in 1951 endures today but is marked for demolition. The home stands sturdily behind some plywood billboard signs announcing a new condominium development. This new Islington development is being done by The Step. The development includes all addresses from 2849 to 2857 Islington Avenue. The public notice sign proposes the development will have 111 new appealing units in a five story condominium apartment.
A photo-op that would allow Jack Devins and former neighbour Marion Rowntree a chance to visit the home one last time was attempted but the builder was not able to confirm a time before the printing of this article.