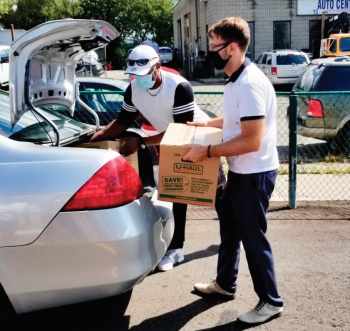 By MPP Tom Rakocevic
Happy Thanksgiving to you and your loved ones.
As I write this in late September, infection rates have begun rising and I hope that this message finds you healthy and safe.
During these challenging times I believe there is still much to be thankful for.
I thank the members of our business community who have donated time, money and in some cases modified production to create PPE.
Since March, Kitchen24, an innovative food business incubator operating in our BIA has donated over 100,000 meals to our city's most vulnerable. Steve Kidron, co-owner of Kitchen24 has been no stranger to hardship when he arrived as a new immigrant.
"I was homeless for years after I arrived," he said. "I know what hunger means."
I thank our non-profit associations and organizations who continue to modify their services to meet higher needs during this pandemic.
Black Creek Community Health Centre (BCCHC) has worked extra hard to adapt its medical, mental health and social support work to serve its 10,000-plus clients within our community and beyond.
"Of our thirty years of service delivery in this community, this year has been the most challenging but also the most rewarding," said Cheryl Prescod, BCCHC Executive Director.
I thank the places of worship here in our community who have provided much hope, emotional and even charitable support during this pandemic. Pastor John C. Taylor of local Light and Life Ministries shared his thoughts on what he felt is most important.
"To serve others is one of the most honourable acts of love one can express to humanity," he said. Their church has served more than a thousand families in need with food and back-to-school supplies.
Finally, I thank each and every one of you.
We have all made sacrifices in the name of each other's health and safety. Those of us who have been able to give, have given. Whether it has been a grocery pickup for a neighbour, financial support for a friend, family member or a charity, or even a regular call to check up on someone they care about.
Stay well and please try to take the time to thank others for your blessings.
This year has been unprecedented in its challenges, but also in the compassion we have shown one another. And for that, I am thankful.