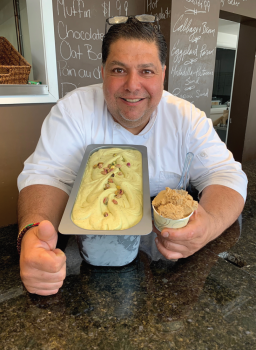 Finally the heat of the summer is here. And what better way to cool off than a delicious gelato or sorbet?
For a delightful and refreshing experience, many flavours are available daily at West Finch Bakery.
Chef and owner Joseph Montinaro explained they've always been innovating, but never change the fact that they serve the highest quality foods and desserts available.
Their selection includes favorite taste sensations such as gelato from Ecuadorian chocolate to Madagascar vanilla and sorbet from lemon basil to champagne and caviar.
"There are so many flavours that we have created over the years in gelato creation, and many more that I would like to experiment with, soon," said Montinaro.
West Finch Bakery has been in Emery Village for 50 years and will mark the 20th year at their present location.
Make sure to visit them at: 1107 Barmac Dr. Or reach them by phone at: 416-743-2661