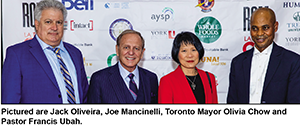 Celebrating Excellence and Dedication
The Emery Village community recently came together in a spectacular display of unity, camaraderie, and recognition at the 15th annual "Youth Now On Track" (YNOT) Recognition Awards Dinner. The event was a grand affair, attended by over 200 community members, who all gathered to celebrate and acknowledge the remarkable achievements of our local youth. The celebration was held at Local 183's vibrant Celebration Hall, graciously offered by their generous sponsors, including Liuna 183, 31 Division TPS, City College Bell Canada, Tim Hortons, and Domino's Pizza, to name just a few.
And a special thanks to Toronto Mayor Olivia Chow, who took time out of her busy schedule to help celebrate this important evening and show her support.
Pastor Francis Ubah, the Executive Director of YNOT, and his incredible team did an excellent job organizing the event, ensuring every detail was attended to and every guest felt welcomed. And the entertainment was off the charts, singing, dancing, and one of the most talented sax players available.
The YNOT Recognition Awards Dinner is more than just a gathering, it is a testament to the resilience, ambition, and creativity of our youth. Rooted in recognizing and rewarding academic and social excellence, the awards aim to inspire young people to stay on track, pursue their dreams, and contribute to the community. The evening was filled with smiles, applause, and heartfelt speeches as awards were presented in several categories. The "Academic Excellence" award recognizes students who have excelled in their studies, demonstrating a commitment to learning and intellectual growth. The "Future Leader" award was given to those who have shown outstanding leadership qualities, inspiring their peers and positively impacting their community. The "Creative Minds" award celebrates those with exceptional creativity in arts, sciences, or innovative thinking. The "Social Butterfly" award was given to those who demonstrated an extraordinary ability to connect, foster relationships, and build community spirit. These young individuals have shown that they can significantly contribute to our community's social fabric. The YNOT program believes in the potential of every child and provides opportunities for them to realize it. Each award served not just as a recognition of past accomplishments but also as an encouragement for future achievements.
This annual Recognition Awards Dinner is a shining example of what we can accomplish together as a community. "At YNOT, we have the mindset and determination to support the youth/children that greatly need support in our community. Unfortunately, many of these children come from families that are mainly poor, unemployed, low-income, and new immigrants; over the years, we have been so successful with guiding these children, not because of the funds or grants, but because of our love, passion, and skills. We have an outstanding team that is fully dedicated and committed to making a difference in the lives of children, primarily from unstructured and single-parent families," Pastor Francis said.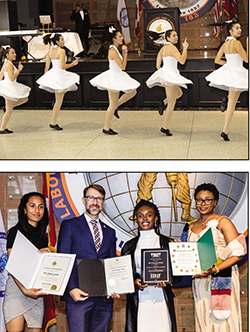 YNOT demonstrates the collective commitment to nurturing the next generation, maintaining a safe and supportive environment where our children can thrive, and celebrate each other's successes. In closing, Pastor Francis wanted to say, "Our message rings loud and clear: We are here for our children, believe in them, and are committed to keeping them on track. As we look forward to the next annual event, let's carry this spirit of community and recognition forward, encouraging and supporting our young people every step of the way."
If you want further information on YNOT Community Services, visit:
Or call: 647-427-4898