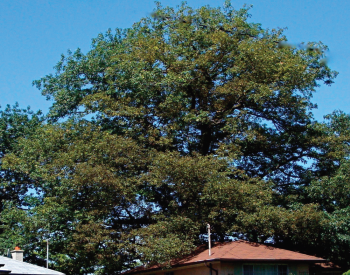 Strong roots in the community
By Sean Delaney
In 2015, a popular opinion began to be expressed that the Red Oak of Coral Gable Drive was an Oak tree, and community symbol worthy of a monument.
But we'll come back to that later.
The tree is more than just branches, leaves, bark and a trunk – it's true story is about the roots beneath. This tree has stood the test of time through every season.
Today, it continues to stand majestic. Estimated to be between 250 and 350 years old, its base is an impressive 15 feet plus, and its reach is indescribable. It is thought to be the oldest red oak in the City of Toronto.
While the tree is in good hands and protected by law, as it is designated a Heritage Tree, it has become the subject of much discussion for the past many years. The city is working on acquiring the land and home upon it from its owner, tearing the house down, and turning the remaining lot into a parkette that could become a tourist attraction.
The idea has attracted support on City council and has been a hot topic. Big Red needed a hero or at least a plan. That came from Edith George.
A resident and a strong advocate for the tree, George sees it as a symbol of the city's and country's history. In three centuries, it has witnessed the growth and fall of nations, the movement of First Nations people, the arrival of Europeans, the industrial age, and the growth of the City of Toronto. If properly preserved and protected, it could last hundreds of years more.
George travels the province performing a presentation titled, Heritage Tree – Preserving Our Natural Roots.
"As more people learn about the importance of natural roots, they'll understand the need for identifying and preserving this special part of our history that is often overlooked and even taken for granted," George said.
Now, you are asked to join Heritage Toronto, honoured dignitaries, and Edith George along with hundreds of her friends and colleagues, as they present the Heritage plaque for the Coral Gable Red Oak.
Following the plaque presentation, all are invited to join a walk to the tree, take in a short presentation on the history of the tree, as well as refreshments.
The event is Saturday, Sept. 14 from 1 p.m. to 2 p.m. at the Woodview Park Toronto Public Library Branch, 16 Bradstock Rd.