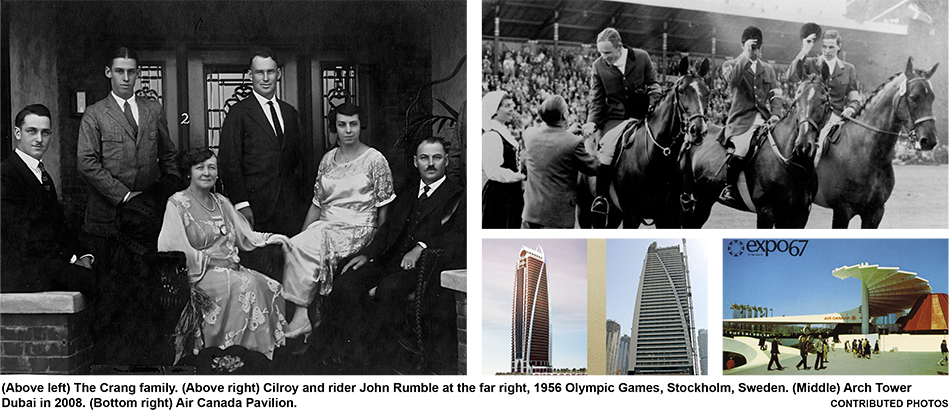 By Edith George
When having a house designated as a heritage house under the Ontario Heritage Act, examiners not only look at the architectural value of the building but also the past owners of the house and how their families contributed to Toronto, Ontario, Canada, and the World.
This month I am writing about the second family who purchased the Rivermede House property in 1950 - the Crang Family.
Past Emery Village Voice articles have been written about Jethro Crang in our area, but I am writing about additional information that I have discovered about Jethro and his family.
The Carmine Stefano Community Centre is located at 3100 Weston Road. A little-known fact is that the pond located behind the Centre is not a natural pond but man-made by Jethro Crang.
Percy Gardiner (the previous property owner) wanted to have a gravel pit built behind his Rivermede house. His friend, Conn Smythe, had lucrative gravel pit operations, and Percy thought he could do this on his property.
Mr. Gardiner had a nephew, a geologist by the name of McElroy Gardiner. He had his nephew examine his property, hoping to start this type of operation. McElroy discovered the water level on this property was too high and that you would hit water between 3 and 1/2 to 4-foot depth. Percy scrapped this idea, but when Jethro Crang purchased the property, he pursued this type of business venture. He left Emery with a three-acre pond abounding with aquatic ?ora and fauna. It has become the neighbourhood's paradise, and the locals call it, Crang's Pond.
Jethro Crang came from a family of philanthropic volunteers, and many of them had a variety of interests and passions. His grandparents came from Devon, England, to Toronto in the 1860s. They were master builders and eventually settled in the Oakwood Avenue and St. Clair Avenue West area of Toronto. The Crangs developed this area and owned the Oakwood Pool, Oakwood Theatre, Crang's Garage, built residential homes, and even were the contractors for Oakwood Collegiate. They owned the Oakwood Stadium, where our Toronto Argonauts played their very first game.
Crang Avenue, which is located in this area, was named in their honour.
Jethro Crang's brothers enlisted in WWI and WWII.
James Goulding Crang was in the Royal Flying Corps in WWI, and he became a ?ying ace. He received the Distinguished Flying Cross and a Mentioned-in-Dispatches, signed by Winston Churchill.
Frank Lane Crang served in the Army Service Corps in WWI and was gassed at Amiens but survived. John Alexander "Ralph" Crang enlisted in the Dental Corps in WWII as a mechanic.
Jethro Crang had a nephew named James Carscallen Crang, who became a Pilot Of?cer Navigator during WWII.
In 1950, James formed an architectural ?rm with his cousin, George Boake. The ?rm was called Architects Crang and Boake Incorporated. Some of the buildings they designed are the Air Canada Pavilion for Expo 67, the Metro Toronto Convention Centre and the Royal Canadian Yacht Club, both located in Toronto and the Arch Tower of Dubai, located in the United Emirates.
Jethro Crang had a ?rst cousin named James Harold Crang, they called him Harold, and he was a stockbroker on the Toronto Stock Exchange.
He had many passions, one of them was dairy cattle, and he had one of the top Guernsey cattle operations located at Glenville Farms, Newmarket, Ontario. Another one of his passions was horses, and Glenville Farms was the site of fox hunting events.
His horse, Cilroy, was on the Canadian team that won the Olympic bronze medal in 1956. This team brought our Canadian equestrians onto the world stage. A book titled "The Five Circles" by Barbara May was published in 1958.
The book is a story about this horse. I had the delight to interview Cilroy's rider, John Rumble. Mr. Rumble lives in King Township and is 88-years-old and still involved with horses. He informed me that Cilroy was a brilliant jumper and knew how to approach each jump correctly. John told me, "I just went along on the ride and let Cilroy do the work," during the three day event at the 1956 Olympic Games.
During WWII, my dad was sent overseas. My Grandfather was responsible for his wife, parents, and three daughters. To make additional money in the summer, he ran a hotdog/hamburger unit at Oakwood Pool.
The eatery was called Lou's Grill. He dealt with Jethro's brother, James Goulding Crang, who was the manager of the Oakwood Pool. This extra cash helped support the family while Dad was overseas during WWII.
My Aunt Daisy, who was a young teenager, had a crush on Mr. Crang's son, James Carscallen Crang, who was a lifeguard at the swimming pool.
I have the WW1 records of James Goulding Crang and the WWII records of my dad, Christie George. James Goulding Crang listed 982 St. Clair Avenue West as the address of his next of kin. Dad listed Lou's Grill, St. Clair Avenue West as his pre-enlistment employment. Talk about six degrees of separation.
The above is the contribution of the Crang Family to my family.
… and Jethro Crang never had our great red oak cut down.
History lost is history hidden.