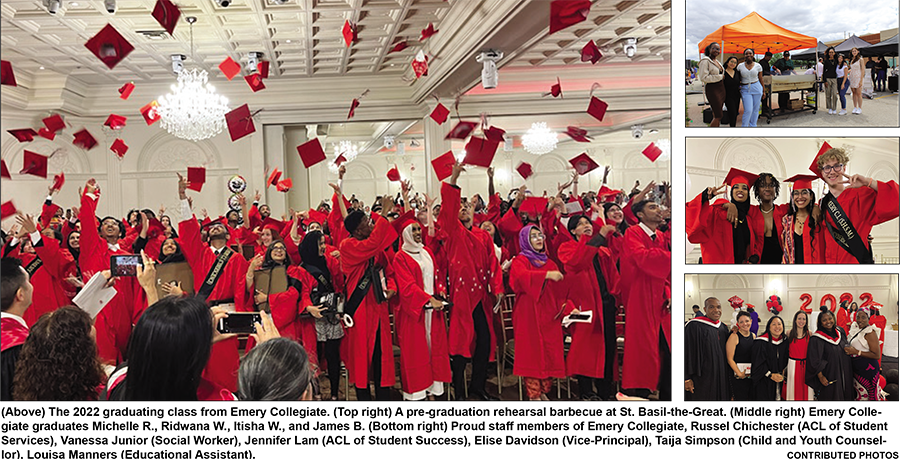 By Sean Delaney
Emery Collegiate Institute and St. Basil-the-Great College School recently held graduation ceremonies to honour all the students who achieved academic excellence and will now move on and up. And to thank all the teachers, staff, and resource workers who helped the students reach those goals. Also to celebrate the parents, the families, the mothers and fathers, sisters, and brothers who supported all of the students along their journey.
And in 2022, they finally got to do it the old-fashioned way again.
"It's clear what we missed not having an in-person ceremony," said Maria Palermo, principal of Emery Collegiate Institute. "The importance of commencement, the graduation ceremony itself, is one of those huge moments for our students. Every year we talk about the 40 hours of community service, the 30 credits, the literacy requirement, and how much time and energy goes into earning an Ontario secondary school diploma. It is a massive accomplishment."
And Palermo said that the graduating class of 2022, is particularly special. The last couple of years have seen them face not just the usual challenges of being a high school student but to do so in the middle of a global pandemic.
"So, being able to come together and mark those accomplishments with the pomp and circumstance of a typical commencement ceremony was hugely important," Palermo said.
The principal said during the pandemic, the school did what it could to celebrate graduation accomplishments. For their first, they held virtual celebrations, did graduation gifts for students, and arranged so students could have pictures taken while receiving their diplomas. In their second pandemic graduation ceremony last year, they had a graduation video, every student had a photo and graduation profile, and they distributed the diplomas and gifts at the school with a photo booth set up so students could have a little bit of camaraderie.
"But it still wasn't the same," Palermo said.
"It feels like we're back," said Sandra Mudryi, principal of St. Basil-the-Great College School.
Mudryi is happy to see the school's graduating class get the experience they deserve, and a little bit more, after a few very unique academic years.

"This is our first graduation ceremony in three years, so it's been a long time coming," Mudryi said. "It's one of those milestones students look forward to in their high school experience, and we're thrilled we can facilitate it this year."
Mudryi explained that two years ago, St. Basil students couldn't have any official graduation ceremony. Last year the school conducted a graduation experience outside, a drive thru experience for parents and students she said, that saw graduates still have a cap and gown and diplomas, as well as a photo op, but it wasn't an opportunity to gather together with peers, friends and families to celebrate a momentous experience.
And this year, she said, capped off a lonely time where everyone had studied online.
"So, coming in and being able to see a few peers and staff is a great experience," she said. "We were really looking forward to this year where we had all the staff coming back together to a more normal school year, we had a graduation committee, we planned gowns, worked with our valedictorian, and it all culminated in a rehearsal, and a chance for the students to get together for the first time, and the last time in a school building. It was a chance for them to say goodbye to each other and take those photos together, which was even unique for some as they stayed online to study this year. We came together, had a barbecue and ice cream, did a nice group photo, and allowed students to really celebrate what a difficult four years was."
Mudryi credited all her students for their resilience during the pandemic. They live in unique times and can take pride in their accomplishments. She said the school staff has reiterated to all that coming out of this experience, they'll bring away many positive things, memories, and stories they can share with families and children in their own time.
"We also want to make sure we make this really special for all the families and give them a chance to celebrate, to come together with staff," Mudryi said.
While students deserve their celebration, she said, parents and guardians have been partners in all of the situations created by the pandemic. It has been challenging for them as well, she said, and while the school and staff were available to support them along the journey when students were in the building, they had a lot of support to go to, in counsellors, support staff, teachers, administrators, and more. When they were not, more fell on the parents, and those parents and families showed as much dedication as the students, Mudryi said.
"So, as we mark this graduation, we want to honour the parents and guardians, who have gone through so much."
The principal congratulated the class of 2022 and thanked them for their resilience, dedication, and commitment.
With restrictions eased in 2022, Palermo said they heard loud and clear from students that they wanted their graduation ceremonies back, and she credited vice principal Elise Davidson, as well as some other staff members, with organizing a traditional and particularly celebratory graduation ceremony that was a tribute to everything the students had endured during COVID-19.
"It was a lovely evening held at Elite Banquet Halls and Convention Center," Davidson said. "It was so important to be able to celebrate this landmark moment with students, parents, guardians, all the people who have come to the plate to help them."
The ceremony was a combination of awards earned by students, subject awards, and other awards of distinction.
"There were lots of different parts of the ceremony that allowed us to have student voices incorporated because that's what we were there to celebrate," Davidson said. "And the energy from the crowd and the students themselves. The cheer from everyone before we walked out, it was electric. I'm sure all the parents heard it."