Ontario Election 2022
The Emery Village Voice reached out to each of the political candidates from the four major parties.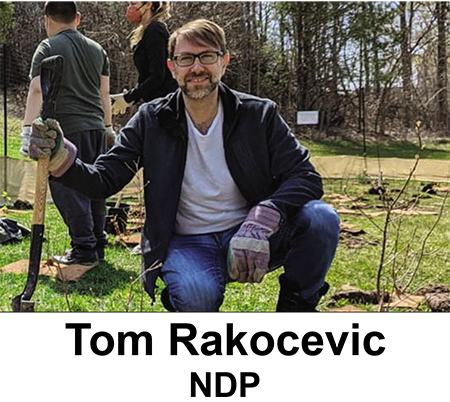 Tom Rakocevic
NDP
Tom is running for re-election to be Humber River Black Creek's member of provincial parliament again.
Emery Village is his home, having grown up in the area, and Rakocevic feels he has been fighting for the community for 30 years.
"Since I was a teenager. I began as a tenant fighting against a developer over intensification, better services, many different things. And from there I volunteered my time for leaders and initiatives that would better the community."
Rakocevic is a York University graduate with a Bachelor's in Education and a Masters in Science. Prior to his service time he was councillor Anthony Perruzza's Executive Assistant.
Talking about work that has been done, Rakocevic said coming out of the pandemic his focus was keeping the community safe. He worked with local providers to ensure access to vaccines, and Emery Village was the first community in all of Ontario to get those 18 and up vaccinated. Something he fought for, for front line workers, transit employees and more.
Rakocevic's team made 30,000 residential calls and was known for providing a consistent flow of information during the health crisis.
Rakocevic has said that his own political focus is affordability issues.
"I have always been fighting against rising costs and affordability issues. The average coast of rent in Toronto is over $2000, prices of homes are through the roof. This leaves many of us worried for our children and grandchildren, how and where they'll be living in the future? Costs of individual goods, whether it's groceries, gasoline, auto insurance, they all continue to rise. And our community faces discrimination in auto insurance. Our postal code pays some of the highest rates in auto insurance despite having some of the safest drivers. This is something I have fought for, for years.
Healthcare is also something Rakocevic wants to continue work on, helping seniors, expanding home care, and working for financial assistance for those caring for a loved one.
"We are facing billions of dollars in a backlog for education funding and schools, and the amount continues to grow. This is also something not addressed by the previous government."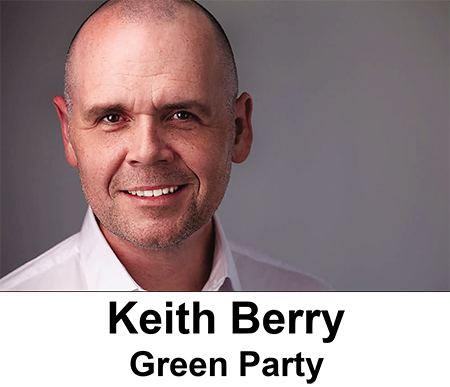 Keith Berry
Green Party
Keith is the owner of a small business that provides graphic design services. He is an active volunteer in his community and a passionate supporter of the Green Party's social, economic, and environmental platform. Keith also enjoys films and live music, as well as gaming and getting outdoors to hike along the scenic Humber River Trail.
Berry said he is ready to offer the leadership skills needed to build Ontario, and will be a strong voice for the people of Humber River—Black Creek at Queen's Park.
Green Party of Ontario's Six Key Strategies (Election Platform):
Homes not highways
Freeze urban boundaries, build 1.5M homes and 182,000 affordable community rental homes, including 60,000 supportive homes over the next decade, and clamp down on speculation because homes are for people, not speculators.
Mental health is health
Increase mental health spending to 10% of our health budget to include mental health care under OHIP, and reduce wait times for children's mental health care to less than 30 days.
New Climate Economy
Establish an annual carbon budget to reach net zero by 2045, electrify transportation, buildings and industry to crush pollution and lower energy costs, and provide up to $25,000 for homeowners for energy retrofits to help save money by saving energy.
Respect for People
Treat healthcare workers fairly by repealing Bill 124, paying PSWs, nurses and ECEs a fair wage, and hiring 33,000 nurses. Improve economic security by doubling the rates for ODSP. Work in partnership with Indigenous communities, starting by implementing UNDRIP.
Reinvest in healthcare and education
Help people age in place with a $1.6B investment in home care. In education, oppose any move toward mandatory e-learning or hybrid learning. Convert loans to grants for low and middle income post-secondary students.
Protect Nature
Permanently protect prime farmland, wetlands and conserve 30% of nature by 2030. Provide $1B in funding for Indigenous climate leadership. Make infrastructure climate ready with a $2B adaptation fund for municipalities.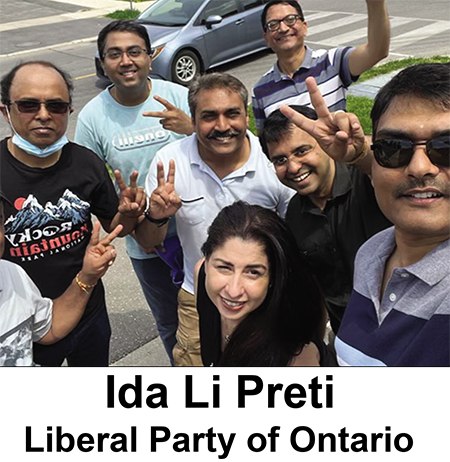 Ida Li Preti
Liberal
Born and raised in Humber River Black creek, Li Preti grew up at Jane and Steeles.
She is a small business owner, elected school board trustee and member of the Toronto Board of Health.
"I've been working with the community my entire life, and I'm very honoured and proud to be the Liberal Party candidate in this election."
Asked about issues Li Preti spoke about the core message of the Ontario Liberal Party, that it is the party of hope, optimism and people. She said the magic of Ontario is that anything is possible.
"Door knocking you get to hear what the concerns are. It's my way of working, sitting down with community stakeholders to hear what the issues are and working collaboratively with them to address problems they are facing."
She said she has listened to hundreds of stakeholders during a Take the Mic call-in service, and said many callers said they were in crisis.
"There's an affordability crisis in Ontario and we need to be there to help families get ahead. The Ontario Liberal Party platform was the first one that was fully costed. Meaning we were giving you our platform and showing you where we were getting the money to fulfill the promises made."
Li Preti said at the doors she is also hearing a lot of need for seniors help. She encouraged people to go online to see the Liberal Party platform. She said with inflation at an all-time high seniors are choosing between bills, food on the table and medical needs. She said families are struggling and she doesn't believe this is the Ontario she knew when she grew up.
"We worked diligently, we made sacrifices and then we were able to benefit from the sacrifices we made, and we were able to invest in a home, we were able to invest in the community we grew up in. That dream is not attainable anymore."
She said the Liberals will create 1.5 million more homes and make life more affordable for Ontario by banning non-resident ownership, taxing empty homes, and putting a use it or lose it levy on land.
"We're going to work with our municipal partners."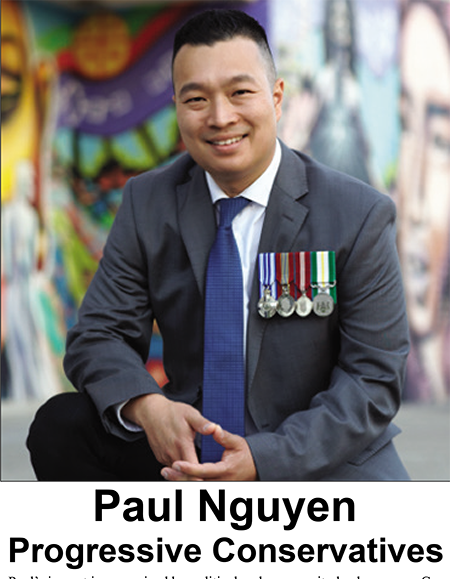 Paul Nguyen
Progressive Conservative
Paul's impact is recognized by political and community leaders across Canada. He is a public speaker and media commentator on race, crime and youth issues.
In 2006, he spent a year working with CBC's The Fifth Estate following the lives of gang-involved youth in the Gemini Award nominated Lost in the Struggle.
Paul is a recipient of the Paul Yuzyk Award for Multiculturalism, William P. Hubbard Award for Race Relations, Heritage Toronto Award, Canadian Ethnic Media Association Award, National Ethnic Press and Media Council of Canada Award, and the Ontario Medal for Good Citizenship.
In 2012, Paul was awarded the Queen Elizabeth II Diamond Jubilee Medal by the Prime Minister and Governor General at Rideau Hall for 'fighting stereotypes and acting as a role model and mentor for at-risk youth'. In 2015, he returned to Rideau Hall as a recipient of the Meritorious Service Medal. In 2017, Paul received the Governor General's Sovereign's Medal. In 2018, he was a recipient of Canada's Volunteer Awards. Paul was featured on Noteworthy Canadians of Asian Origin for Asian Heritage Month by the Government of Canada. In 2019, he was featured in the book 150 Extraordinary Canadians. Currently, he serves on the York University Alumni Board and the York University Senate.
- Information taken from the official website for Paul Nguyen.