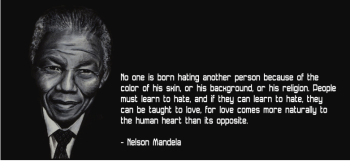 BY SAYADA NABI
Nelson Mandela. Father of South Africa. Leader of Anti-Apartheid. The simple mention of his name produces the previously mentioned titles in many minds. He is a man that was destined to spend the rest of his life in jail after he was charged with treason. Hope appeared in his small jail cell when his birth-nation protested for his release, garnering international attention and support. Mandela is a man who came out of a jail cell after 27 years, leaving any anger he may have had in the confinement of his cell. He preached of love, peace and equality among his nation, emerging even more optimistic after enduring all these hardships.
December 5, 2013 marks the day the Great Madiba died. Five days later his memorial service marked the day that the world left politics behind and peacefully united for a brief moment in celebration of his life. This event exemplifies the essence of Mandela as he manages to unite in death as he did in life.
Obama called him "the last great liberator of the 20th Century."
South African President Jacob Zuma knows of him as the "father and hero" of South Africa.
UN Secretary General Ban Ki-Moon looks at him as "one of our greatest teachers. He taught by example."
All these world leaders gave speeches and delivered their opinions about Nelson Mandela to a worldwide audience. But what does Nelson Mandela mean to the children of Emery Village? His memory will live on through these children, and it is important to acknowledge their attitude toward Mandela, as it will become the popular opinion in the future.
After questioning a few grade 8 students from Humber Summit Middle School, some comments and responses stood out.
When asked "What do you think about Mandela's death?" Sapna Bedi responded, "He was an inspiration, that everyone knew and looked up to and he will be missed."
Joshandeep Pannu had a similar answer stating "Mandela was a great person over all. His kindness and effort toward making the world a better place did not go unnoticed. He set a great example to people around the world. His tragic death will cause pain to many who knew him dearly and looked up to him."
Jay Modi added that "Nelson Mandela was a great leader and a lot of people were affected by his death. I actually saw people from India and Pakistan holding up papers and posters of him on newspapers."
The most interesting idea came from Parmvir Bath as he considers, "Mandela as a brother to Martin Luther King and Gandhi."
He draws comparisons among three historical figures suggesting that the common thread connecting them is their fight for love and peace.
Campaigning for equality, the students highlight Mandela once saying, "No one is born hating another person because of the color of his skin, or his background, or his religion. People must learn to hate, and if they can learn to hate, they can be taught to love, for love comes more naturally to the human heart than its opposite."
It is extremely fascinating to feature opinions of 13-year old children, because they will eventually be the future.
They will keep the memory alive, and their responses indicate that Mandela's teachings will continue to live on with time.