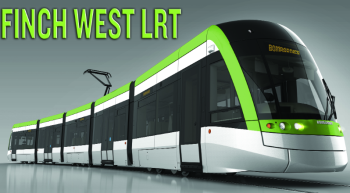 By Sean Delaney
Metrolinx held an open house for Emery Village at the Julius Banquet Centre on the evening of Jan. 12. It's purpose was to share specific details regarding the introductory phase of the fast approaching Finch Avenue West LRT. Metrolinx had 30 boards on display to systematically highlight the specifics of their plan. As well, a dozen representatives were on hand to answer individual questions from and for the public.
Approximately 50 residents eagerly awaited the beginning of the evening, and approximately 100 persons attended in total.
The first phase of Metrolinx's plan officially begins now – in early 2016. It includes the release of a series of Request For Proposals (RFPs) meant to generate bids on some of the required structural components that will ultimately lead to larger production projects.
The RFPs presented at the meeting were developed to search for companies that plan to bid on upcoming building and construction assignments.
One critical project is the creation of a series of eight Traction Power Substations (TPSS's) along the entire Finch route.
Metrolinx has planned to build these substations just off and adjacent to Finch with three planned for our immediate catchment area and community.
The TPSSs are an essential component for nearby electrical distribution for the traffic control and signalling systems that supply the vital electrical needs of the LRT.
At this point in the project, Metrolinx has determined that one TPSS building could conceivably be built close to the far northwest end of Finchdale Plaza, near Pearldale Avenue.
A second Metrolinx has contemplated building near the rear of the commercial building located just east of Weston Road on the north side of Finch. The last one being considered should be somewhere around the east ramp of Highway 400 – and this specific location should not pose any issues to the community.
At this point in time, the exact process that determines these locations is still in the planning stages, Metrolinx reported.
It is certain however, that they will be required and do need to be built somewhere.
The land a TPSS building requires will have a total footprint of 32 metres by 32 metres. The structure will be approximately 12 metres by 12 metres and have only one storey.
BIA representatives asked questions about the exterior design of these buildings. What they are expected to look like? And what work Metrolinx is going to put into them?
Jamie Robinson, of Metrolinx, relieved the BIA's representatives concerns by assuring them they will have the chance to play a role in ensuring that each local TPSS building will be esthetically pleasing and conform to the character and fit of each respective community.
He assured residents that this will be accomplished with direct input from the BIA.
The assurance was well received and a strong point earned for the BIA.
The next, apparently shifting, issue that was brought up is one that continues to be negotiated with Metrolinx by the Emery BIA's consultant.
It involves two additional lanes of traffic on Finch, east of Weston Road. This will mean a total of six lanes of vehicular traffic are required for Finch, from Weston Road to the 400.
Metrolinx has now officially accepted this idea into their plans but what seems to remain an issue is the $3 million dollars required to pay for it.
It is a sure thing though that Councillor Giorgio Mammoliti, along with Toronto Mayor John Tory, will continue to voice their positions to find the needed means to accomplish all the critical connections the BIA has requested.
These matters have to be agreed upon before construction actually begins.
There is a continued belief that Metrolinx should and will be held accountable to Emery BIA's corridor requests, on behalf of all our community.
For more on the project, visit metrolinx.com and click on the 'Projects & Programs' tab.