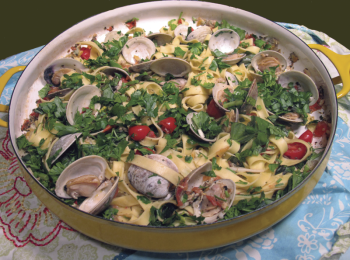 Mammoliti Famous Linguine con le Vongole
Ingredients
* 1 pound dry linguine
* 1/4 cup extra-virgin olive oil, plus more for serving
* 8 garlic cloves, slivered
* 1/4 red bell pepper, chopped
* ? yellow bell pepper,c hopped
* I cup of cherry tomatoes, left whole
* 2 pounds littleneck or Manila clams, scrubbed and rinsed well
* 2 cans of clams in water
* 1 cup cup dry white wine, such as Pinot Grigio (or to taste)
* 2 lemons, juiced
* 3 tablespoons unsalted butter
* Sea salt and freshly ground black pepper
* 2 handfuls fresh flat-leaf parsley, finely chopped
* 2 tablespoons chili pepper (or to taste, optional)
Directions
Heat the olive oil over medium flame in a deep saute pan with a lid. Add the garlic and red & yellow peppers; saute for 2 minutes. Add the cherry tomatoes whole and let simmer until tomatoes pop open, about 15 minutes, add the canned clams and let simmer together for an additional 15-20mins. Add the clams, wine, and lemon juice. Cover and cook, shaking the pan periodically, until all the clams are opened, about 7 minutes. Discard any that have not opened.
Just before adding the canned clams, bring a large pot of salted water to a boil, add the pasta and cook for 8 to 10 minutes or until tender yet firm (as they say in Italian "al dente.") Drain the pasta well.
Crank the flame up to medium-high heat. Add the hot, drained linguine to the pan; add the butter and season with salt and pepper. Toss the pasta with the clams so it's nicely coated. Shower with chopped parsley and chili pepper.
Drizzle with a nice dose of olive oil before serving.