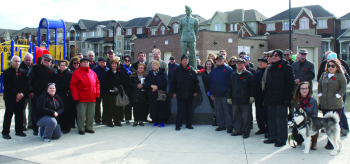 By Sean Delaney
Nov. 11, 2016
Once again, residents gathered at Joseph Bannon Park in Emery Village to pay their respects and honour all of our fallen soldiers.
Ward 7 councillor Giorgio Mammoliti, Executive Director of the Emery Village BIA Sandra Farina and the North Islington Italian Seniors Club were in attendance.
Special thanks go out to Rocco Di Giovanni, President of the North Islington Seniors Club along with the members that helped mark Remembrance Day and celebrate all of our fallen heroes.
John McCrae's In Flanders Fields was read out loud by Patrick Bannon Sr. to all in attendance. The service was an emotional and cherished time for all.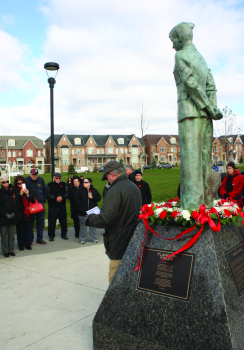 Now in its fifth year, the service around the Joseph Bannon statue also welcomed army staff, who all stood in salute during the minute of silence.
The Bannon Family members were in attendance to honour their father and grandfather.
Bannon was a local hero of the last World War who went on to serve our community, with his wife and family, giving us so much more after his service. Hats off to Joseph Bannon, and the many others who went to war and died for us.
Thank you to Vittorio Mazzucca and his trumpet. Mazzucca performed, The Last Post on his well loved horn.
Emery Village BIA is grateful for the community turnout and would like to thank everyone in attendance for sharing such a meaningful moment remembering those who gave their lives as well as those who continue to serve in the Canadian Forces. We look forward to seeing everyone again next year.