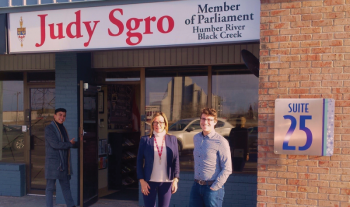 By Tim Lambrinos
The business owners, home owners and residents of Humber River – Black Creek are within one of the most diverse areas in the entire City of Toronto. The majority originate from a broad array of cultural backgrounds.
Very often, residents require some help and assistance to government programs and feel that this assistance must come from a strong leader to obtain the necessary results. Judy Sgro has been the elected Member of Parliament in the area since 1999. Her local constituency office has been operating at the same location right from the beginning. It is located at Finch and Arrow Road at 2200 Finch Avenue West, Unit 25 – the telephone number is, 416-744-1297.
Indeed, Sgro has to spend a great deal of her time representing the needs of the community at Parliament Hill in Ottawa. However, she relies on quality staff to ensure the local community receives superior attention at her Constituency Office when she's away.
The local office actually runs much like a mini Service Canada outlet. By and large, the constituency office of Judy Sgro seems to most frequently deal with cases involving immigration, refugee status, citizenship and family reunifications.
The office is open for walk-in inquiries however appointments can also be scheduled by merely calling ahead. Sgro's staff take great pride in handling individual issues and directing any inquiries to another government office, when required.
Mitch Zarychi works primarily on matters of family reunification, assisting families trying to establish themselves in Canada.
Also at the office, Amy Calderan assists affected residents with tax issue notices, disability applications, pensions and the filing of individual tax returns. Calderan said those requiring income tax filing service must book ahead and arrange an appointment at the office. And to be eligible, they also must be in the category of low income, around $30,000 or below. The office has arranged for certified general accountants to be on hand for this free service. The program is part of a broader-based volunteer program that is sponsored by the Canada Revenue Agency program.
Also at the office is Constituency Assistant Juan Sarmiento. He welcomes all to drop into the office and talk about their issues anytime from 9 a.m. to 4 p.m., Monday to Friday.
"It continues to be an honour and privilege to assist serving our entire community. I really love doing what I'm doing," Sarmiento said.
Sgro's current priority initiatives at Parliament Hill revolve around ones that have the greatest impact on the quality of life for the local community. They include senior care, gun control, climate change, and of course, public transit. All of these matters are recognized as essential in current Canadian society.
Quality staff, quality representation and a quality leader. A great deal of thanks and gratitude can be given to those who run the local office of our elected Member of Parliament.
Keep up the continuing quality work.