Donovan Bailey and Andre-Philippe Gagnon help raise over $900,000
An impressive performance by famed comedian Andre-Philippe Gagnon, together with an inspiring appearance by Olympic Champion Donovan Bailey, helped raise over $900,000 (net) to support the building and equipping of the new Humber River Hospital, opening October 18, 2015.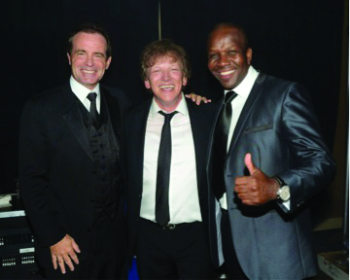 As Donovan took to the stage to share his personal experiences as a patient at Humber River Hospital, the crowd relived one of the most impressive moments in Canadian history – Bailey's win at the 1996 Olympic Summer Games in Atlanta.
Humber's own Dr. Anthony Mascia has always played a vital role on Bailey's medical team throughout his career, most importantly in the treatment of a major sports injury prior to the Olympic Games in Sydney. Bailey thought he tore his Achilles tendon while playing basketball. However, after seeing Dr. Mascia at Humber's Finch site for diagnostic imaging, it was determined that in fact his Achilles heel was shredded, a much more serious injury.
After surgery, Bailey competed in the Games in Sydney just 13 months after his initial diagnosis– an amazing feat given the fact that no other athlete with a similar injury ever competed again.
"I credit my incredible care team, including Dr. Mascia, for my treatment, rehabilitation and bringing me back to world class competition," states Bailey. "As a patient at Humber's Finch site, I could tell that the facility was older and struggling to keep up with the amount of patients coming through. I have seen the need first hand and I'm proud to now lend my support towards the new Humber River Hospital. I had the privilege of touring the new Hospital, and I was absolutely blown away by the size, smart design and attention to detail that has gone into this world class hospital."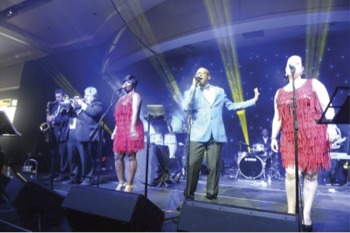 With Bailey's assistance, The River Ball audience raised over $100,000 in one night towards the purchase of a state of the art ultrasound machine for Humber's Medical Imaging Department – one of 21 needed in the new Hospital.
Known for his spot-on impressions, Gagnon entertained with a 45 minute set which included impersonations of Barry White and David Bowie. In his 28 year career, Gagnon has wowed crowds across Canada, the United States and Europe. He has performed alongside musical greats such as Lionel Richie and Celine Dion, and has held audiences for royalty, heads of state and millions of fans around the world.
Earlier in the evening, Humber River's "No Limits" award - created to recognize special individuals in our community who stand as extraordinary examples of Humber's vision for the future - was awarded to Jack and Pat Kay for their steadfast support of the Hospital. Currently, Jack is the co-chair of the Campaign for the new Humber River Hospital.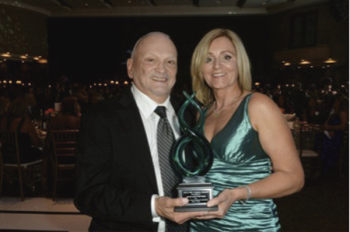 "Jack and Pat have been a trailblazing force - giving their time, money and endorsement to our hospital, from the very early days when our new Hospital was just a distant dream. And now, with only 6 months to go until we open the doors, our success is attributed as much to them as to anyone else," states Eddy Battiston, Chair, Humber River Hospital Foundation Board of Directors. "Where others saw insurmountable challenges, the Kays saw opportunity, giving way to the most successful fundraising campaign in our organization's history - $66.5 million raised to date and counting. Never before have we seen this level of engagement, passion and fundraising from our community. We are lucky to have them as part of the Humber family."
All proceeds raised from The River Ball support the $225 million fundraising campaign to build and equip the new Humber River Hospital – the first brand new hospital built in Toronto in 25 years, opening on October 18, 2015.
The new Hospital will be a place where patients are empowered to participate in all aspects of their care. In partnership with their teams of care providers, patients and families will take advantage of the technologies available to enhance the personal interactions that are the basis of great people care.