By Sean Delaney
You will need food.
So, how about a Super Bowl Charcuterie Board?
With grazing boards and platters still the hottest and most fun way to feed a crowd, the key to a good party is always having plenty of food. Guests will often replenish during the game, especially at half-time. Platters are an easy way to keep an eye on the game and be able to fill your plate quickly during commercials. Let the team at Grande Cheese Market create a charcuterie board or a party platter for Super Bowl Sunday.
And while you are at Grande Cheese Market, check out the extensive line of Deli products and grocery products. Don't forget the chips and dips.
Grande Cheese Markets are all equipped with an in-store pizza station. Every location carries a wide variety of freshly made pizza slices, focaccia, and trecce made daily, along with custom-made-to-order pizzas in large and party sizes.
Scan the QR code and go directly to the Grande Cheese Market platter ordering page.
Or visit them at 175 Milvan Drive, North York. The store is open Monday to Saturday, 9 a.m. to 5 p.m., and 9 a.m. to 2 p.m. on Sundays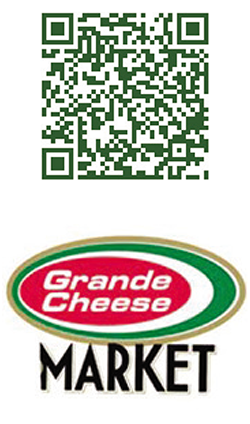 .