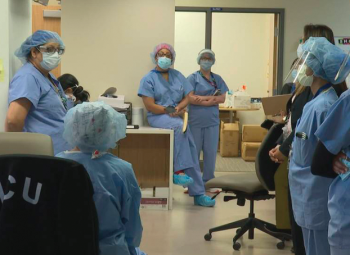 By Sean Delaney
The Humber River Hospital (HRH) has been battling the pandemic for months now, and the community response has been tremendous. Thanks to donors, Humber River Hospital Foundation has raised over $1.4 million and counting for COVID-19 response and over 433,000 pieces of personal protective equipment. They couldn't do this without residents help. Here's how donations are helping HRH in the fight.
The COVID-19 Emergency Response Fund - Healthcare needs during the pandemic are constantly changing and donations to this fund continue to give Humber River Hospital the ability to respond without delay, ensuring the safety of their patients and frontline healthcare workers.
Resident donations, which were matched by the Krawczyk Family Foundation and the Nanji Family Foundation, have helped purchase life-saving equipment such as ventilators, cardiac monitors, and protective equipment for staff.
They also purchased three brand new COVID-19 rapid testing machines for Humber River Hospital, so their team can reduce wait times for patients to receive results by running up to 210 tests each day, right at the hospital with results coming back in 75 minutes. Currently, Humber is referring tests to Toronto Public Health Labs and other labs where the turnaround time is one to six days.
It helps prioritize "stat" patients and frontline staff testing. For frontline staff, having results in 75 minutes eliminates the need to self-isolate for days until results return. If negative, staff will be able to continue working in a healthcare system that is relying on them to care for patients.
It increases access to care for the community by rapidly testing patients and staff when other areas such as surgery and clinics re-open for service.
The Humber Frontline Support Fund was created to alleviate some of the stress felt by healthcare teams during these unprecedented times.
Every Gift of Gratitude designated to COVID-19 has helped put a smile on the team's face – and gifts were matched by the Krawczyk Family Foundation.
Over the past few months, their frontline has been showered with love in the form of special surprises including 14,254 meals and treats for frontline workers, 8,952 pieces of casual clothing and footwear helping frontline teams keep rigorous sanitization routines before and after each shift and 850 free rides for their Humber family so they can avoid exposure on public transit and get home to their families faster than before
The Humber Frontline Support Fund is a way to put a smile on the faces of the frontline, in recognition of the tremendous personal sacrifices they have made for all during the pandemic.
When this is all over, there is no better way to carry on the spirit of the fund than to give them the gift of a brighter future
At the beginning of the pandemic, many hospitals, including HRH, had concerns about potential Personal Protective Equipment (PPE) shortages.
To the hospital staff's amazement, the Emery community donated over 433,000 pieces of PPE, including N95 masks, surgical masks, gloves, gowns and face shields to help keep front line workers safe as they continue to care for patients.
While nobody knows what the pandemic will bring next, the hospital will have a better chance with this generosity. Visit www.hrhfoundation.ca/covid19/ to learn more. Thank you for your continued support as HRH saves lives and looks forward to a brighter future.