Dear Neighbours,
We have marked over a year since COVID-19 was declared a global pandemic.
Like many of you, I am reflecting on 2020 as a year of challenge. We had to make many adjustments to our way of life, from the mask mandate, to the imposition of social and physical distancing, and many months of fear and uncertainty. However, as we move into Summer, I believe there is much to be optimistic about.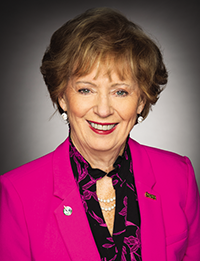 There is a light at the end of the tunnel. We have multiple vaccines approved for use in Canada, and millions of doses have been administered. Many residents of Humber River-Black Creek have been successfully vaccinated and we remain confident that every Canadian will have the opportunity to receive a vaccine by September.
With the end in sight, we look towards the future of the country.
Canada's COVID-19 recovery is an opportunity to Build Back Better.
Canadians are counting on us for meaningful action on health care, the economy, the environment, and equality.
Budget 2021 is focused on finishing the fight against COVID-19, healing the economic wounds left by the COVID recession and supporting the creation of more jobs and prosperity for Canadians.
Key highlights of the budget:
A Canada-wide early learning and childcare system which aims to reduce fees for parents with children in regulated childcare by 50 percent on average, by 2022, with a goal of reaching $10/day on average by 2026.
Extending emergency supports:
Canada Emergency Wage Subsidy, Canada Emergency Rent Subsidy and Lockdown Support until September 25, 2021.
Extending the number of weeks available for the Canada Recovery Benefit and the Canada Recovery Caregiving Benefit.
Enhancing Employment Insurance sickness benefits from 15 to 26 weeks.
Changes to make EI more accessible and simpler.
Increasing Old Age Security for seniors age 75 and older.
Providing a one-time payment of $500 in August 2021 to OAS pensioners who will be 75 or over as of June 2022.
Increasing regular OAS payments for pensioners 75 and over by 10 percent on an ongoing basis as of July 2022.
Increased benefits for approximately 3.3 million seniors, providing additional benefits of $766 to full pensioners in the first year, and indexed to inflation going forward.
Strengthening long-term care by providing $3 billion over five years, starting in 2022-23, to support provinces in ensuring standards for long-term care are applied and permanent changes are made.
Providing $5.7 billion over the next five years to help young Canadians to pursue and complete their education.
Additional relief from student loan debt for young graduates.
The creation of 215,000 new job skills development and work opportunities.
Providing $595 million for a new Canada Recovery Hiring Program, which would run run from June to November 2021 to make it easier for hard-hit sectors and businesses to hire back laid-off workers or to bring on new ones.
We are in a battle of our lives against COVID-19. The supports included in Budget 2021 will make a positive difference for Canadians. I would like to reiterate the words of the Minister Freeland during her presentation of Budget 2021:
"Opportunity is coming. Growth is coming. Jobs are coming. After a long, grim year, Canadians are ready to recover and to rebuild. We will finish the fight against COVID."