By Sean Delaney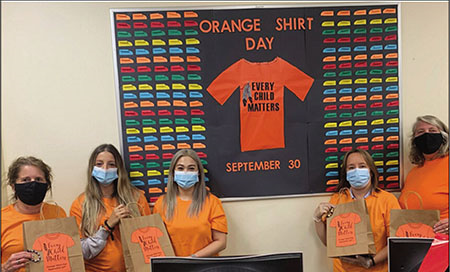 September 30th saw many Emery residents honour Orange Shirt Day. The last day in September is now recognized federally as the National Day for Truth and Reconciliation, and it made sense to stitch together these two significant events. This day now provides an opportunity to bring awareness to the painful legacy and impacts of the residential school system, particularly in light of the discoveries of unmarked gravesites at former residential school locations this year.
It's a time to advance our reconciliation efforts to build a better future for everyone in our community.
Orange Shirt Day was inspired by the experience of a residential school survivor named Phyllis Webstad. Webstad was sent to St. Joseph's Mission School in B.C. in 1973, and her grandmother gave her a new orange shirt to wear on her first day of school. When she arrived at school, the teachers took the shirt, along with the rest of her clothes. Her story symbolizes the stripping away of culture, freedom, and self-esteem experienced by First Nations, Métis, and Inuit children over generations.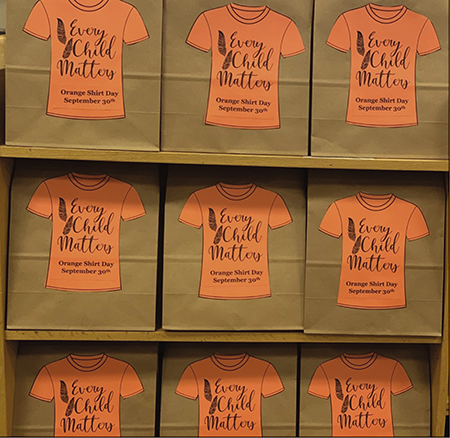 At Woodview Public Library, Branch Head Diana Rothbauer, along with staff and volunteers, wanted to make sure that Truth and Reconciliation and Orange Shirt Day were celebrated with meaning. Having learned much about outreach or lack of it during the pandemic, the Woodview team decided to create "Orange Shirt" themed grab bags. Included was an orange T-shirt (generously donated by the Emery Village BIA), colouring sheets, a one-page information page, and all the components for a bracelet (compliments of the generous folks at Engage416) to be completed at home. The information page was very informative, highlighting some of the vital histories that have led us to the current September 30th day of remembrance.
A big thanks go out to the Woodview Park Library for its continued efforts to engage our community, stay relevant during this pandemic, and help celebrate important events and our remarkable diversity.