By Sean Delaney
Easter is a time for celebration and for everyone to join together and enjoy a sense of community and many were looking for signals that normalcy was returning. To be able to celebrate the fun side of Easter, offering hope that things were headed in the right direction.
In order to help boost those community spirits and build unity amongst us, local community activists Brigette Contento and Mike Verrelli organized an Easter Egg hunt for all at Strathburn Park.
On April 3rd, and along with observing all the necessary precautions and protocols, 130 children gathered in the park to help celebrate Easter.
Lead by the Easter Bunny, the children joyously and eager, followed secret clues allowing them to collect many surprises and ending their Easter hunt with delicious treats for all.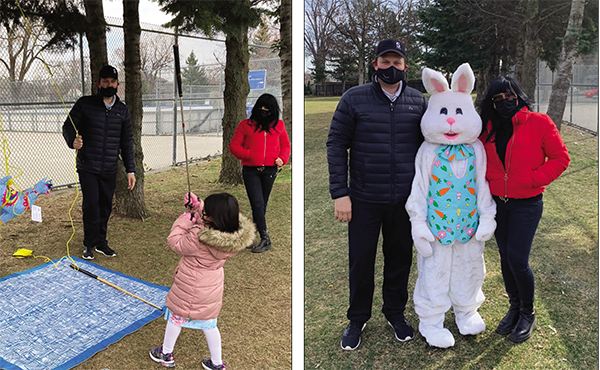 "The day was really amazing and a great reason to be out with good people. Mike and Brigette, thank you for sharing your personal time to create something wonderful for the community," said David Ciardullo.
Getting a visit from the Easter Bunny proved to be a big hit with residents and ensured that they had a Happy Easter indeed.
Local Grace Nesci offered, "Thank you for creating community spirit and adding to these children's memories. We're lucky to have incredible community members like Brigette and Mike. We are truly blessed.
"And thank you to your families, as well, as these events take a lot of time to plan and organize. It's really a team effort."
Apparently, one could definitely say this event was a hopping good time had by all.