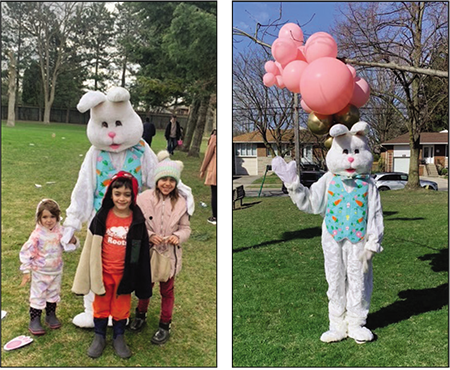 By Sean Delaney
Saturday, April 16th, was a bright, sunny, and crisp day at Strathburn Park; and the Humberlea community came together as a family. The smiles, the laughter, and joy was felt by all.
Michael Verrelli and Brigette Contento were at their community organizing best, adding another successful Easter celebration to their credit.
"It was a perfect example of community unity and support. We are so proud to be part of a solid and loving community. We look forward to many more great events together and many more memorable moments. Thank you for taking part in giving us a special Easter weekend," Verrelli said.
Contento said she feels a community's quality is often dictated by the degree of unity and happiness it brings through community interaction.
"Humberlea community exemplifies unity, togetherness, and care, making it an in-demand community to live in," she said.
On a personal note, and my observation, Verrelli's loyalty, honesty, and devotion to his community are the traits that also make him a Humberlea community expert realtor.
If you're interested in living in this beautiful community, I suggest you reach out to Michael Verrelli - Royal Le Page Real Estate Professionals, 416-464-9007.