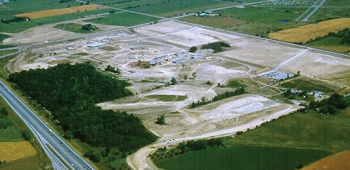 By Claudio D'Intino
Major Mackenzie Drive, Vaughan Pt. 20 Con. 5 (Jane Street) was owned from 1947 to 1962 by Elmer and Arthur McKinnon. From 1962 to 1975, this property was then owned by Findlay Dairy Ltd. According to page 11 of the Sept. 20, 1962 edition of the Liberal newspaper, "...Findlay Dairy has been in business in Toronto since 1926."
On September 17, 1975, the deed was transferred to Family Leisure Centres of Canada. And in 1980, the name changed to Canada's Wonderland Ltd. The project was eventually approved by the Ontario Municipal Board, despite a huge amount of controversy.
According to the Merriam-Webster dictionary, the definition of 'wonderland' is "an imaginary place of delicate beauty or magical charm....a place that excites admiration or wonder..a scenic wonderland."
The $120 million dollar project on the 330 acres of land was officially opened on May 23, 1981 after two years of construction. Wayne Gretzky raised the flag, with Ontario Premier Bill Davis and Dudley Taft, president of Taft Broadcasting looking on. (Bill Davis was education minister in 1961 when he opened up Emery Collegiate).
Wonderland was also co-owned by Great West Life. It had rides and general admission was $10.95. There were themed areas including International Street.
In the summers of 1981 and 1982, I worked at Canada's Wonderland, in the Ticket and Cash Control section at the front gates.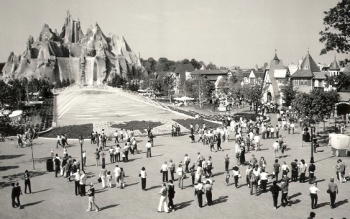 In my hand written letter of reference, my supervisor wrote, "In an operation such as ours...we are responsible for a very valuable inventory."
My favourite memory was watching the band Toronto, playing for free, and their hit song Your Daddy Don't Know.
The strangest question I remember was, "Where is the Wonder Mountain?"
The 15,000 seat Kingswood Music Theatre opened on June 1, 1983 with headline act, The Tubes. The first three songs were Turn Me On, Theme Park and A Matter of Pride. The next concerts were Anne Murray, Eric Clapton and Bob Seger. Ownership changes included Paramount Pictures, when the name changed to Paramount Canada's Wonderland.
Now, it is owned by Cedar Fair Entertainment, which includes Cedar Point and Knott's Berry Farm. In 2017, 3.7 million visitors had a selection of 70 rides including 17 roller coasters and 11 water rides.
One only have to look at social media to see the reviews and thoughts of its many visitors: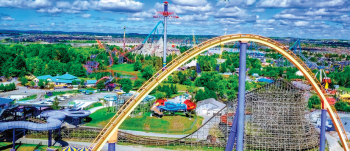 "Growing old is mandatory, but growing up is optimal."
"The difference between ordeal and adventure is attitude."
"Wander often, wonder always."
"It is the scary choices that end up being the most worthwhile."
"Can someone go back and get my stomach."
Over the years there has been residential and commercial development around the site, including Vaughan Mills Shopping Centre.
The new $1.3 billion Mackenzie Vaughan hospital will open in 2020 on the north side of Major Mackenzie Drive and Jane St.
This used to be the separate employee entrance to the park.