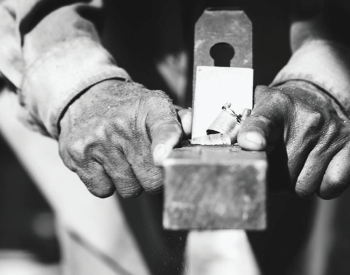 By Sean Delaney
Albert Einstein famously opined that one should strive to be a person of value, not a person of success.
Joe Pinto has, perhaps unknowingly, lived his entire life by this philosophy. And it is what has made his business – Luxor Homes Corporation – the company it is today, and his family the presence within Emery Village that the Village would not want to do without.
"He's been here 30 years," said his daughter Maria Pinto, General Manager of Luxor. "And even today he's known as the guy in the neighbourhood who will help anyone out. It's who he is. He'll do anything if someone is in real need. That's who his father was, and that's who my dad is today." The community is always in Joe's thoughts and in his heart, and the betterment of the Emery area continues today to be one of his primary goals.
Luxor began as a subcontracting company, manufacturing doors and trim and millwork. It began with Joe's father Antonio – Maria's grandfather. He made everything by hand, in a warehouse space he had purchased on Toryork Drive. Joe would always work with him, and the two grew the company to the point that their work was well known, and purchased, by large developers like Mattamy Homes and Fernbrook.
Joe saw in the larger developers what he wanted to do, but because of the love of fine craftsmanship Antonio had instilled in him, he wanted to do things a little bit smaller, and his own way. In the early 1980s he began Luxor so that he could achieve his dream of being a home builder, but Luxor was destined to be a custom home builder.
"He loved everything about building from the ground up and wanted to build homes, " Maria said. "But he took the values of his father, being a woodworker, and put that into the building of the actual home. Luxor has been in business now for 30 years constructing custom homes and that's what we continue to do today".
And the values of his father extended beyond the business. That's how Pinto was raised, and the drive to be a valued member of the community was the part of his father he admired the most. "He knows the majority of the people in the community, from business owners to residents in the area and he always helps. From doing little things residents need to improve their lives, to donating spaces for seniors in the community to run activities and events, to working with the other businesses in the area and ensuring he could supply business to as many other Emery companies as he could, he's always believed it's better to give back to the community, and help everyone grow. The majority of our sub-trades come from Emery Village."
Watching his own father age in the community, and the work he would constantly do to ensure everyone was as happy as they could be, Joe took on the same drive, his daughter explained. Joe also spends more money and staff time than is usual on the maintenance of the exterior of his industrial units now because he believes in keeping his community beautiful. "It's all part of his philosophy," Maria said. "And it goes into everything we do."
Today, Luxor is focused on reinvesting in Emery Village and has acquired the St Gaspar land located near Islington Ave. and Steeles Ave.and wanting to do something great. A community within a Community ,as they say. . This project was close to home which is why we wanted to keep the name. The project name is The Homes of St. Gaspar because Luxor is going to strive to maintain the legacy of the land they purchased and fell in love with.
The development will consist of semi-detached homes, because that is the housing design that dominates the area, and because Joe is so entrenched in the area personally, and a lover of his community, he wants to provide the neighbourhood with what Emery wants.
The Homes of St. Gaspar will be launching in September. This is a very exciting time for Luxor Homes. The Homes of St. Gaspar Sales Presentation Centre is located at their office at 128 Millwick Drive. If you are interested in learning more about any of their projects, you can register now at luxorhomes.ca