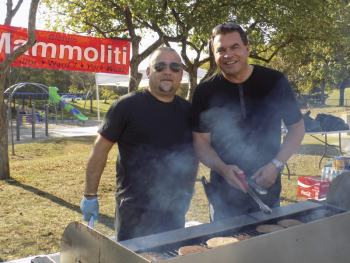 By Sean Delaney
What a fantastic event on the evening of Thursday Sept. 21 at the Gord & Irene Risk Community Centre where Councillor Giorgio Mammoliti hosted a BBQ for local residents.
The event included a variety of entertainment, games, art, a visit from Toronto Police 31 Divison and Toronto Fire, as well as free food.
Aside from the Halal burgers and hotdogs, and vegetarian burgers, the fresh corn on the cob was the most popular food of the night. There was a live singer, named Maria Perri, who sang several of today's top hits and was a hit herself with the community. The kids enjoyed the games and balloons, and the incredibly talented Henna artist, Nasrin.
"I've never had a henna before, I just love it!" said Councillor Mammoliti, as Nasrin had painted a beautiful, intricate design on his hand.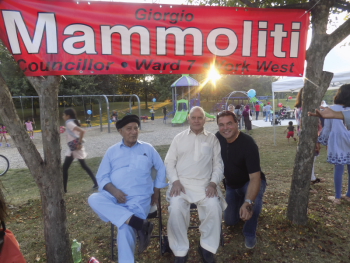 The younger children attending were especially pleased with the face painting station and lollipops that were being given out as well as getting to sit inside a fire truck.
"I love hosting these barbecues for the community because it gives me an opportunity to mingle with my constituents, and nothing makes me happier than to see my community along with the children coming together having a good time," added Mammoliti.
"Events like this not only bring people together but bring communities together and strengthens them. As a councillor of our ward I want us all to be engaged and invested in where we live, work, and raise a family."