By Sean Delaney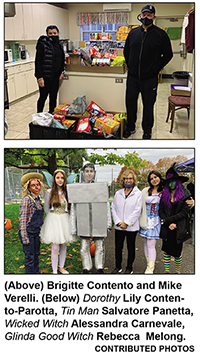 Community champions Mike Verrelli and Brigette Contento organized a second annual food drive, including a Halloween candy component. Held on Saturday, October 15, at both Stratburn and Joseph Bannon Parks, residents were asked to donate food and candy, and in return received a free pumpkin.
The donated candy will find its way to the Weston Area Emergency Support (WAES) facilities and be distributed to families identified for the drive. Candy purchases might not be on the shopping list with many households on tight budgets.
"The candy is really for the children, and we know that it brings big smiles to their faces," said Verrelli.
"Despite the rain and chilly day, to no surprise, family, friends, and neighbours came out and supported our second annual Halloween Candy Drive. We are grateful for all of the donations and so proud to be part of such a caring community. Thank you all who came out to support us, and a huge thanks to our helpers," Contento added.
Thanks go out to Rosalinda Troia, Viki Panetta, Joe Mirabelli and Steve and Anna Verrelli. The Emery Village Voice would like to recognize Verrelli and Contento for their ongoing dedication and innovation in helping others in need in our community.