By Tim Lambrinos
Reflections of G.B. Warren Junior High School
The Humber Summit Middle School provides classes for grades six through eight and is located at 60 Pearldale Avenue. The school is located just north of the Finchdale Plaza along Finch Avenue West.
The school operates from a curriculum that is determined each year by the Toronto District School Board (TDSB). However, prior to the school becoming a middle school, it began its life as Humbermede Junior High School for grades seven through nine. This happened at a time in North York history when grade nine classes were still considered high school credits even though they weren't necessarily taught in a high school.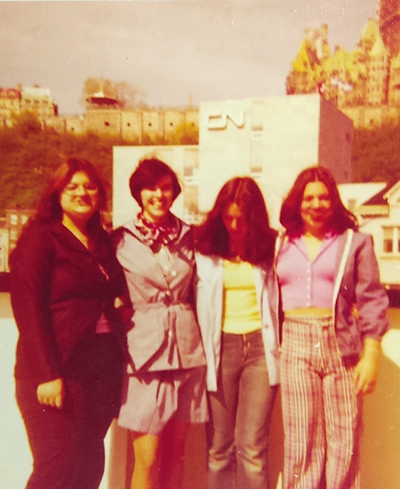 Humbermede Junior High School, at Duncanwoods and Pearldale, opened its doors in 1969 with an official ceremony conducted by the school trustee of the time, Val Scott. Grade nine graduates were expected to attend Emery Collegiate Institute that is located further east along Finch Avenue and a little bit south along Weston Road.
Prior to the actual building of the school, this small quadrant of selected land was comprised of an evergreen woodlot – part of the 150 acre farm operated by the Rowntree family.
The entire Rowntree farm was purchased in 1958 by builder Camillo Domenico Milani who immediately created a 25 acre recreational facility in an effort to attract Italian families to nearby residential homes. He envisioned that Italian immigrants could work at newly created construction jobs and assist his grand plan of creating large industrial and residential zones. The recreational facility for the community was commonly known as Italian Gardens.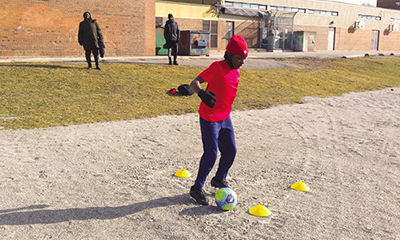 Milani opened Italian Gardens in 1960, complete with a swimming pool, bocce courts, theatre, cycling track, auditorium and a horse racing track. The entrance into the facility was very close to Finch and Islington. The land where a new junior high school would later be built, was within a long extension of an evergreen forest. Milani quickly encircled the existing stand of white pine, spruce and cedar trees with a wide oval horse racing track, as a principal feature of Italian Gardens.
Beginning in 1964, new streets were created and residential homes were built over the former farmland with streets named Duncanwoods, Gracedale, Pearldale, Topeka and Hasbrooke.
With the closing of Italian Gardens and the building of the school in 1969, principal Graham B. Warren welcomed area teenagers into a brand-new school. Warren was an avid sportsman who usually ran up to five miles per day. His programming for students included combining health and recreation along with applying attention to standardized studies. In addition, the school would be used to experiment with many "pilot project" initiatives for the North York board that could later be analyzed for their effectiveness in delivering sound education.
The school's population was made up of graduates from nearby public schools including Gracedale, Bluehaven and Whitfield with an overflow from St. Roch's as well.
Soon after the school's opening, Warren passed away unexpectedly in a tragic snowmobile accident. Parents petitioned to rename Humbermede and have it named after him. The school became G.B. Warren Junior High School from 1970 through 1985.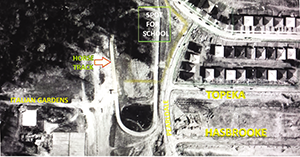 The school was staffed with a monitor-person in the spacious cafeteria, individual lockers, auto and wood shops, chemistry lab, typewriting class, art class with a kiln (only with teacher's consent), cooking and baking stoves, sewing machines as well as music classes for brass, wind and string instruments. There was a large gymnasium that was state-of-the-art for its time having ropes for climbing, peg boards, springboard, balance beam, vaulting horse, high jump bar with netted mattress, basketball and volleyball nets, floor hockey gear and various rubber balls. There was a stipulation that everyone had to attempt climbing the rope or jumping the vaulting horse.
Carmela Marmora attended the school from 1971 to 1974 and played on the girls' volleyball team. She recalls the school having an excellent music program that was taught by Mrs. Hendry. In it were many fine musicians that graduated from the school including Joe Likuski (violin), Ron Chambers (cello), Ken King (trombone), Sam Valenzano (trumpet), Eric Paisley, Mike Rutigiano (drums) and Janice Dalziel (flute). She also vividly recalled a regular dress code requirement and that girls were required to wear standardized pull-up zippered blue romper suits for gym classes. During this time, there was a school librarian named Mr. King, art classes taught by Don Dale, math classes by Al Todd, French lessons by Larry Funnel, home economics by Eina St. Louis and English classes taught by Meredith McFarquerson.
One memorable teacher was Inez Calvert, who lived within walking distance of the school. She worked in the guidance office and eventually moved into the main office to do secretarial work. During her tenure at the junior high school, she saw five different principals in Graham Warren, Roy Hardie, Arthur Morgan, Dick Leclerc and Walt Bremner. Calvert retired from teaching in 1988 after a total of 20 years working at the school.
Carol Froehlich attended the junior high from 1974 to 1977 and recalls the flexible programming that permitted boys to take home economics and girls to take wood shop, if they chose. And also that music lessons could be taken in both wind and string instruments over the three year span students attended the school. Another former student of this time was Helen Gjamovska. She recalls that many organized school field trips were often taken, including one to Toronto City Hall. Globally recognized boxer, Donovan Ruddock attended the school from 1975 to 1978. During his professional boxing career, he is credited with having two memorable fights with Mike Tyson and becoming a two time Canadian heavyweight champion. And then there was Roberto Buttarazzi (who performed under the name Robert Michaels) who learned to play the trumpet at G.B. Warren from 1973 to 1976. He later went on to win a Canadian Juno award for the best Instrumental Album of 2003 while playing guitar.
In 1985, after 16 years of operating exclusively as a junior high school, G.B. Warren was then transformed into a middle school. And the school would adopt a new historical name, the Humber Summit Middle School. This change occurred at a time when area parents voted to make changes to the format of the existing system. At the re-opening, Mr. Sandy Gray became the new principal of the middle school alongside vice-principal John Wells. Shortly afterward, principal Lloyd Hogg was appointed along with vice-principal Ted Pickles.
In the new middle school system, grades six through eight were then taught. This format required grade nine students to attend Emery Collegiate. As a result of downsizing created by overall budget cuts in 1985, nearby Emery Junior High School was closed with the majority of the building reopening as an adult learning centre. At the same time, several teachers transferred from Emery Junior High to the newly created Humber Summit Middle School that included Jerry Ingham (geography), Ken Colby (science), Tom Fountain (history and ESL) and Terri Bowden.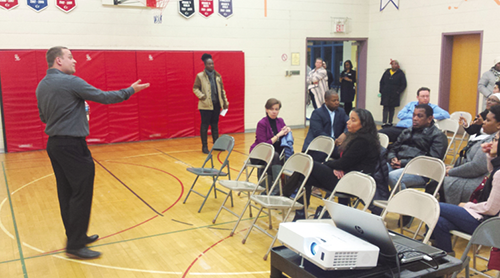 These days at Humber Summit Middle School, the elected official at the TDSB is Trustee Christopher Mammoliti and the principal of the school is Nikki Silvera. Mammoliti was recently elected by his colleagues to become Vice-Chair of the Board. His newly expanded duties obviously show a vote of confidence by his colleagues from across the entire municipality. Now, it is anticipated that Mammoliti will implement many new creative aspects for area students and be able to publicly analyze different pilot-projects that he has planned for the future.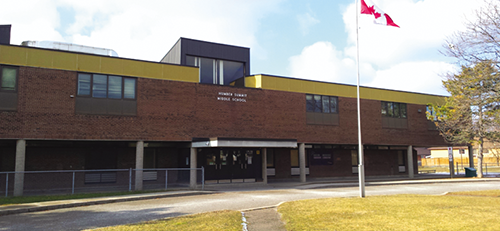 One of the volunteer members of the parents' advisory group (PIAC) at the school is (Auntie) Sharon Grant. She has worked tirelessly to help create modern programming for students. Her son Kynu graduated from the school last year and has now enrolled at Emery Collegiate Institute.
Mammoliti hopes to implement his plans for some new and innovative pilot projects, along with some other exciting concepts. His goal is a solid foundation in the same tradition of G.B. Warren Junior High School.
As the years go by, the memory of the former junior high school will continue to fade away but some things will never change. The proud tradition of teaching excellence that continues to this day and the unquestionable reflection of the school's first principal, Graham Warren.