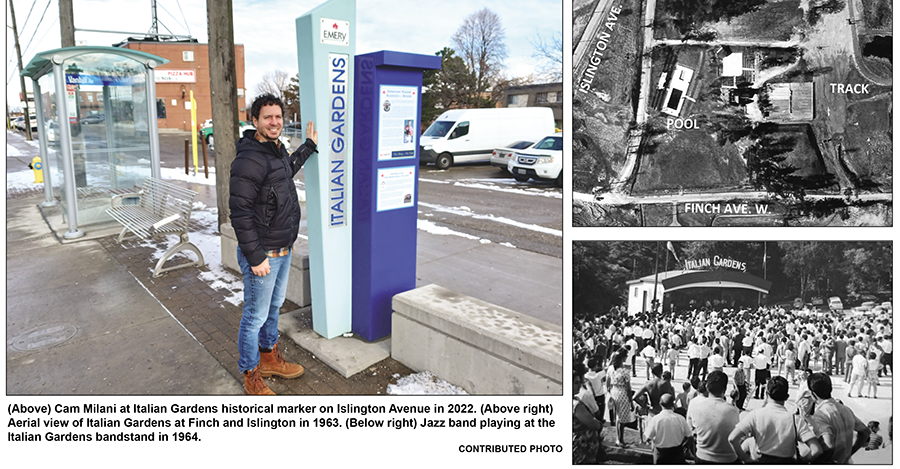 The building of a better community
By Tim Lambrinos
Certain people become known as key figures in creating great communities. Very often, it takes only one person that is trusted to complete a larger vision for everyone to enjoy. Such was the case where, in 1955, Emery and Humber Summit became transformed from farmland into some amazing commercial, industrial and residential properties.
The present name of Italian Gardens appropriately labels a shopping plaza in Humber Summit that exists on the east side of Islington Avenue at Satterly Boulevard. However, the name Italian Gardens came from a specific phase in the remarkable story of the building of a community. Italian Gardens was the creation of an ambitious, intelligent and dedicated man who wanted to give something back.
Camillo Domenico Milani was born on August 25, 1911 to parents Gregorio and Angela Milani in the small mining town of Copper Cliff, Ontario, near Sudbury. Just prior to WW1 breaking out, Angela Milani was forced to leave Canada as young Camillo was relocated and brought up in Castello Di Godego - Veneto, Italy. The birth of his siblings followed him, and they named Vilas, Luigi, Italo, Fernando, Zita and Clara.
At only 16 years of age, Camillo Milani left Italy and travelled to Chicago, Illinois where he was able to obtain his Canadian passport, through an embassy. Travelling back to North Bay, Ontario he then worked in the logging industry in an effort to sponsor his brothers to come to Canada.
After the war and by 1954, Emery Village and Humber Summit received an astonishing visit by Camillo Milani who envisioned building the largest industrial and commercial area that the country had ever seen. After achieving this, the Milani brothers built warships for the Canadian war effort. During this time period, Camillo was married to Lois Darroch of Toronto and the couple had a daughter named Cristine.
Signet Properties development firm was formed in 1955 where Milani took on more than a dozen financial partners to complete his massive vision of building many factories. Milani's resulting great wealth can be mainly attributed to establishing a financial partnership with a trusted monetary backer, J.C. Vanhuse.
In the mid to late 1950's, the two men laid out all the area's water mains and industrial roads. This was followed by constructing the majority of the present-day warehouses and factories that currently operate within the boundaries of the Emery Village BIA today. This allowed families to move into brand-new homes in the early sixties. Milani's dedication to the project ultimately provided new residents with many new construction, retail and factory job opportunities.
It was also because of Milani's financial success that he decided to give something back to the community by creating an attractive, leisurely and enticing recreational feature in the area. He wanted to showcase something, particularly for new Italian-Canadians and their young families, as an enticement to relocate to Emery from existing subdivisions in downtown Toronto.
In 1958, Milani started by purchasing the farmhouse and the surrounding 150-acre farm from William Joseph Rowntree on the north east corner of Islington and Finch Avenue. This was the land originally homesteaded by Emily and William Henry Rowntree. Young Marion Rowntree, who grew up in the Rowntree farmhouse, was 18 at the time and she was then required to move to nearby Weston where she began teaching a couple of years later. The Rowntree farm itself was relocated to another property in Woodbridge. The former Rowntree property at Islington and Finch was about to become Milani's brand-new exclusive recreational facility.
By 1959, Milani began excavating and levelling the protruding hills to shape his project to life.
Construction was finally completed, and the brand-new Italian Gardens recreational facility was in full swing by the summer of 1960 on 25 acres of the former Rowntree farm.
At the time, Italian Gardens became the liveliest and funniest place to be in the northern suburbs of Toronto and North York. A European-style swimming pool was the showpiece of the facility. By 1964, there was an enormous sign that assured all visitors that everybody, regardless of nationality, was welcome.
Visitors were greeted by Lollobrigida who wore a skin-tight white bathing suit. She looked as if she'd stepped off an Italian movie magazine cover but she turned out to be Persian. Admission into the facility was one dollar for male adults and 50 cents for females.
Italian Gardens was the closest thing to a European swimming park that anyone had ever seen in Canada.
The swimming pool became the focal point for a variety of activities but swimming also led to many other things. There was also a full-size soccer field, numerous bocce courts, baseball diamond and 1/3 mile asphalt track for racing bicycles. At the time, the track was the only one of its kind in Canada.
Cyclists from all over the continent competed there, and when competitors weren't racing, you could have rented sputtering Go-Karts for 25 cents a lap.
There was a small restaurant with a terrace where you could order traditional Italian spaghetti, veal, and chicken dishes for around a dollar. A delicious pizza, with the works, could be purchased for 75 cents. Milani's sister, Zita Stocco, was one of the women that cooked at the facility.
The general manager of the grounds was Leonardo Martinelli.
Lou Fontinato (former NHLer) managed all of the sporting events.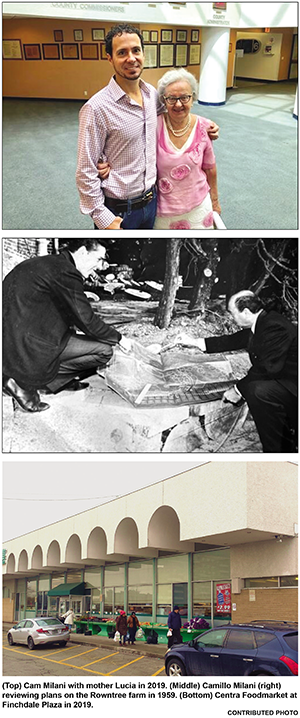 John De Toro was another manager who coordinated the swings, slides, professional boxing ring and the forest that had picnic tables with open barbeques for all to enjoy. There was a 9,000-square-foot dance floor with a bandstand that had coloured floodlights with thousands of flowers. And hanging prominently was an enormous, painted vermouth advertisement.
For no extra charge, on weekends you could dance until midnight, enter dance competitions or take part in a lucky draw. There were also quality stage shows and concerts featuring headline performers.
The Italian Gardens facility closed in 1968 when new homes along Milady Drive, Grenadine Court and the Swiss Court apartments along Islington were built shortly after. This new construction turned over the soil of this glorious and fantastic part of the area's past. Today, the Gord and Irene Risk Community Centre, rink and pool carries on the tradition of recreation for the community at large and is located just south of Milani's original Italian Gardens.
After closing Italian Gardens, Milani went on to build the Finchdale Plaza on Finch Avenue West in 1968.
In 1978, he got married for a second time to Lucia Rizzardo and started a second family with children Cam, Lucrezia and Tiziana. He then also invested in creating residential properties in Woodbridge and Italian families followed him once again because he was easy to trust.
Camillo Milani died on February 24, 1986 and his family continues to run his same firm today. The firm is called the Milani Group.
The Milani Group of Companies does exactly what Camillo started out initially doing, land development with son Cam now at the helm of the firm.
Lucia Milani remains very active with the firm and was recently recognized in 2019 as a speaker in Palm Springs, Florida. This is where a proposed 5.6 acre beachfront parcel could be used for an anticipated park opening in Highland Park.
The park is proposed to be named the Cam D. Milani park, in honour of Lucia's late husband.
Emery remains thankful that Camillo Milani's legacy to Emery and Humber Summit will always be that he was an intelligent, honest, persistent, creative and caring man that built something amazing for the community.
And that he indeed was the one that had the leadership to kick-start it all.