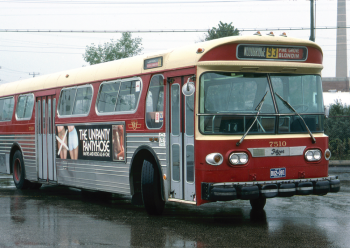 By Claudio D'Intino
Bus service from Weston to Woodbridge has been ongoing since the 1920's, especially with the abandonment of the Toronto Suburban Railway Woodbridge route in 1925. A private operator, owned by George Watt of Thistletown called Woodbridge Bus lines, connected Weston to Woodbridge.
Service between 1945 and 1955 was operated by Roseland Bus lines, Gray Coach and the Toronto Transit Commission. In September 1956, the TTC assigned the service Route 93 (Pine Grove – Weston). It went along the Weston trolley coach on Main Street (Weston Road), then along Albion Road then up Woodbridge Road (Islington Ave) to Pine Grove in Woodbridge.
A zone fare system was used.
In 1958, the 87 Rosemount route was combined with this route, providing service from Dundas and Runnymede to Woodbridge. In 1966, with the opening of the Bloor-Danforth subway, the route started from the Blondin loop to Pine Grove and the addition of the Scarlett Road 79 bus.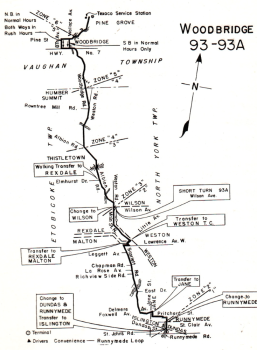 On April 28, 1969, service outside the rush hour was terminated with an off-street loop via east on Satterly, north on Plunkett and then west on Steeles to Islington. Plunkett Road now ends at Cabana and Anthia with no connection to Steeles Ave West. There is only a pedestrian walkway that leads Steeles.
On August 29, 1975, at the request of the Town of Vaughan, service ended. Vaughan Transit began operation and the Islington Route 1 service was operating on the Steeles and Islington bus loop where the 37 Islington and 60 Steeles West terminated. Before the merging of Vaughan Transit into York Region Transit in January 2001, Vaughan Transit had a vehicle fleet of 23 buses.
An article in the March, 2015 edition of the Emery Village Voice outlined the Blondin Loop.