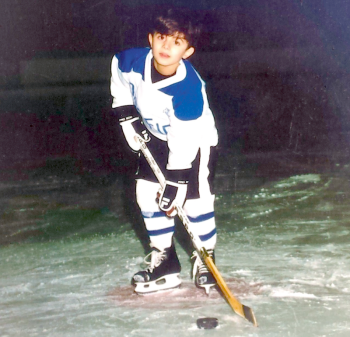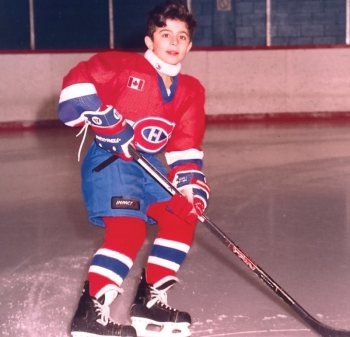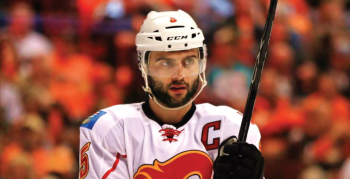 By Tim Lambrinos
The name Mark Giordano is familiar to Canadian hockey fans as the franchise player in the City of Calgary. However, Giordano is also well known for his incomparable humanitarian achievements.
Luckily, for the community of Humberlea, Giordano's success in hockey began right here.
In 1977, Paul and Anna Giordano moved from Richmond Hill and bought a home on Sunset Trail off Weston Road. The Giordanos took advantage of an opportunity to purchase two neighbouring properties to accommodate Paul's sister. Six years later the Giordanos welcomed the birth of their son, Mark.
As a young boy, Mark took to the outdoors and often played in their backyard. He enjoyed baseball with local friends at nearby Strathburn Park.
In 1988, Paul Giordano signed his son up for hockey in a league at nearby Downsview Arena. Not tall for his age, young Mark competed quite well and continued to refine his athletic skills. His father encouraged him in the sport, never thinking he was a future superstar of the game. Instead, Paul told his son to compete only when he felt he was enjoying it.
For his primary schooling, Mark attended St. Simon's Catholic School on Wallasey Avenue. Beginning in Grade 9, Giordano attended Chaminade College School where he helped the school's hockey team win the Junior Catholic City Championship. They defeated perennial hockey powerhouse, St. Mike's. Science teacher, Paul Orsi, recognized Giordano as an honour student and realized that the young student was going to accomplish anything in life that he put his mind too. It was the following year that Giordano experienced a surprise growth spurt, shooting up from his boyhood height of five feet and five inches.
Giordano played MTHL hockey with the North York Canadians before moving up to the Humber Valley Sharks. During this time, most of his games were played at St. Mike's Arena. In 2001, Giordano played his first season of junior A hockey with the Brampton Capitals of the OJHL, where he scored 24 playoff goals to lead the Capitals to an Ontario championship.
His play showed he was ready to compete in Ontario's uppermost league, and Giordano would skate two seasons with the Owen Sound Attack of the OHL. He was named to the First All-Rookie Team as a top scoring defenceman. Despite his rising success in the OHL, he was not selected in the NHL draft. But during this time, Giordano received a phone call from hockey legend Bobby Orr asking if he could become his agent. Giordano did not want to go back on a commitment he had already given however, and told Orr no.
During his tryout with the Calgary Flames of the NHL, he stood out from a group of other invitees.
The Flames instantly signed him to a contract following the camp. For the next two seasons, he played for Calgary affiliates in the AHL before being called to the big leagues.
Giordano made his NHL debut with Calgary on January 30, 2006, against the St. Louis Blues.
He appeared in seven games with the Flames that year and recorded his first NHL point on April 8, 2006, with an assist against the Vancouver Canucks. In the 2006–07 season, he played in 48 games with the Flames, scoring seven goals and 15 points. Giordano scored his first two NHL goals on October 14, 2006, against the Toronto Maple Leafs. After a brief one year stint in the Russian Super League, he returned to Calgary for the 2008–09 season.
On September 20, 2013, Giordano was named the 19th Captain in Flames' history, succeeding Jarome Iginla. He has been praised by his teammates and coaches for both his long tenure with the franchise and forceful playing style. He is known as one of the hardest workers on his team and has always been willing to sacrifice himself to block a shot or come to the aid of his teammates.
Currently, Calgary is rebuilding their team and trying to establish a new identity, including a deal with a new head coach, Bill Peters.
Giordano and his wife Lauren are spokespersons for Habitat for Humanity. In 2011, they launched a program called "5-for-5" where the goal is to build five new homes, one for Calgary and four for Africa and Asia. He donated $25,000 of the $130,000 himself and his contribution was matched by the Flames' charitable foundation. In 2012, the team honoured him for his work with Habitat for Humanity. The Calgary Flames Foundation for Life named him the recipient of the J. R. "Bud" McCaig Award. Prior to the 2014–15 season, Mark and Lauren Giordano launched another initiative known as the "Team Giordano Project."
The project sees the Giordanos and Flames donate funds to three Calgary schools and supply new gym equipment and computers. At the end of the 2016–17 season, Giordano was awarded the ESPN Muhammad Ali Sports Humanitarian Award for his charity work.
Still with the Flames, Giordano has played in a total of 755 NHL games, scored 112 goals and has 266 assists. He continues to be known as one of the most underrated players in the league.