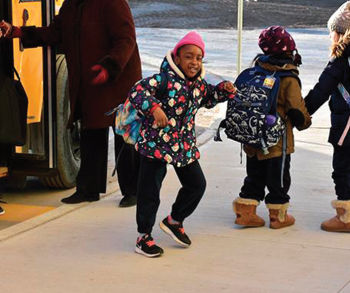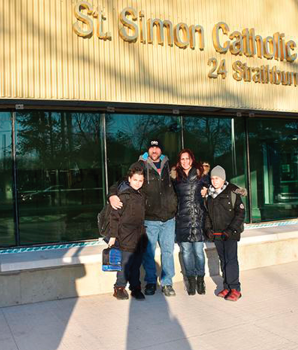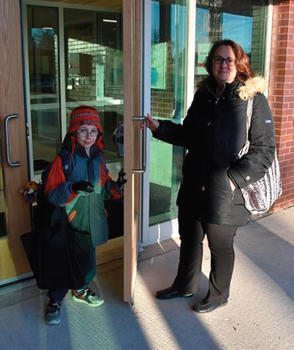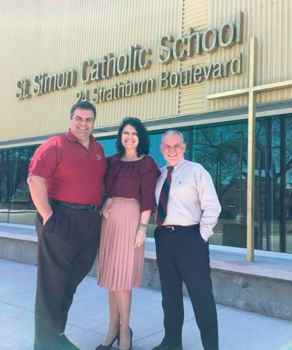 By Sean Delaney
The rebirth of a new St. Simon Catholic Elementary occurred just in time for Easter celebrations as the staff and students arrived for the first official day during the third week in March.
Acting Associate Director of Planning and Facilities, Maia Puccetti and superintendent Flora Cifelli were at the school handing out TCDSB pencils to students as they arrived in the morning, wishing them well on their first day in their new school.
Toronto Catholic District School Board Trustee Sal Piccininni, the area's longstanding and tireless champion for the new school said.
"Schools are the heart and soul of our community. The new St. Simon will be a hub for activities that will bring different generations of students and families together, from the young to the young at heart."
Working closely with TCDSB planners, Mr. Piccininni was able to secure enlarged and updated gymnasium, library and multi-facilities and shared access with the City of Toronto to a large playing field. The new school has 5,300-square-metres of usable space, with a capacity of 542 pupils to accommodate the expected growth in this area of the city. Originally built in 1977, the old school at 20 Wallasey Avenue had a capacity of only 243 students and housed six portables crammed onto a small site with no playing field.
Trustee Piccininni pointed out that the shining new state-of-the-art St. Simon has been the culmination of many years of committed hard work, consultation and planning on the part of many in the Emery Village community.
"Great things always happen when we work hard together toward a common goal so I thank everyone for their significant contribution and patience," said Piccininni. "We need public places where students, parents and neighbours can learn and play in a safe and caring environment – St. Simon is definitely the place to be."