By Sean Delaney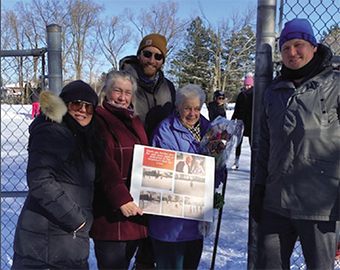 As many of you may know, Gordon Kerr, a cherished resident of the Humberlea Community who lived on Strathburn Boulevard, took on the enormous task of flooding both area arenas from 1966 to 1997.
That meant many long evenings, being out in freezing temperatures and working away, often until midnight,
Sadly, Gordon passed away just over a year ago, but his legacy of dedication to providing a skating rink for the community remains.
Gordon's daughter Kathy recently reached out to some area residents to let them know that Gordon's wife Doreen has been watching with much joy and excitement to see others take on the responsibility of flooding the rink.
On Saturday, February 5th, Brigette Contento and Mike Verrelli organized a community skate to honor and celebrate one of Humberlea's long winter traditions in memory of Gordon's dedication to the ice rink.
The ice was crisp and the Humberlea community was in great spirits.
"We honoured this great man with his family at Strathburn Park to officially open the skating season," Contento said. "It is truly an honour to know that we are continuing the dedication of a great man in ensuring a skating rink for our community."
We have had many hands doing their part to help the process of forming the ice, Anna and Steve Verrelli, Tony Parra and Niko for helping clear the snow, Justin Saith for covering Mike while away."