By Sean Delaney
It's not often that the Emery Village Voice recommends a product or service, but given our current state of affairs due to COVID-19, better communication has become essential between families and their loved ones - especially within immediate families and families with seniors in long-term care facilities or living on their own.
Part of the deterrent to signing on to a cellular phone service can be the associated monthly costs and potentially costly cancellation fees, should the plan no longer be needed. So if you're a low-income senior, you may be eligible for the Telus Mobility for Good for seniors program. Here are the program details and how to apply.
Mobility for Good® for low income seniors provides Canadian seniors receiving the Guaranteed Income Supplement (GIS) benefit with low-cost wireless service and a free refurbished device.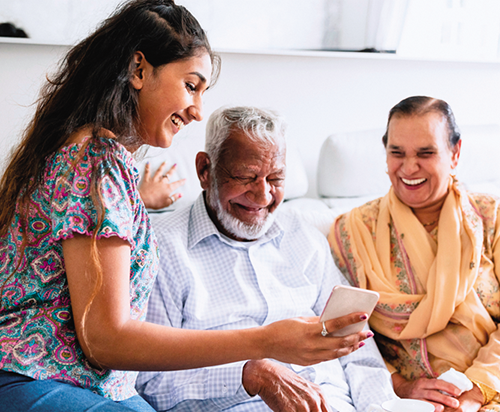 Program details.
Bring your own device or apply for a free refurbished device while supplies last.
Receive up to 3GB of high-speed wireless data per month with Peace of Mind.
Unlimited Canada wide talk & text for $25 per month (plus applicable taxes).
No long-term contract or cancellation fees.
As well, digital literacy support is available at TELUS Learning Centres. And customers gain access to free TELUS Wise® workshops and resources, empowering you to participate safely in the digital world.
You can apply if you.
Receive the GIS benefit.
Can provide your Old Age Security statement, also known as the T4A (OAS), indicating an amount paid to you.
How to apply.
Confirm that you are eligible.
To protect your privacy, blackout your SIN and OAS numbers on your Old Age Security document, leaving only the last 4 digits visible.
Send your approved documentation via email to:
mobilityforgood@telus.com (preferred)
Or by mail to: TELUS, Attention: Mobility for Good Program, 510 West Georgia Street - Floor 23, Vancouver, BC, V6B 0M3.
Please include your full name, return address, email address (if applicable), and contact phone number Telus can contact you about your application. Individuals are encouraged to enlist the help of a friend, family member or caseworker to apply on their behalf if necessary.
What to expect after you apply.
Telus will review and respond to all applications within two weeks (response may be slower for mail in applications).
If approved, you will be sent a code and a Telus call centre phone number to call to sign up.
The call centre agent can help you sign up for the service or help existing customers who qualify for this program to migrate from their current plan.
If you have any questions about the Mobility for Good program, please contact Telus at: mobilityforgood@telus.com