By Sean Delaney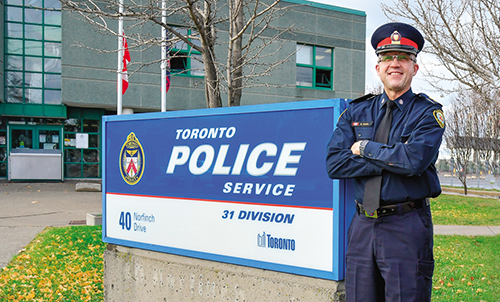 Keith Smith is the new head Inspector at 31 Division.
He comes to Emery Village from the heart of the city, and with an excitement for the challenges specific to Emery Village and the area, and the challenges that continue in 2021 due to the coronavirus pandemic.
"It's great to be at 31 Division," Smith said. The new 31 Inspector has spent 34 years with the Toronto Police Service in various roles and divisions and ranks.
"I won't go through all of them, because that would put everyone to sleep," he joked. "But I have been incredibly lucky to be a part of this organization and I still love coming to work and contributing. Mentoring our people, investing in our community, and learning about the community."
Most recently, before he arrived at 31 Division, Smith spent a year and half as the Inspector at 51 division. He said there he was dealing with public safety issues, but different demographics, which led to specific focuses including mental health issues, housing issues and more.
Here, he expects to focus more on gun and gang violence and some of the other issues specific to his new Division.
"That's a challenge and something I inherited. I don't have a magic wand to fix it, but I am certainly putting my mind to it and how we deploy our resources here."
On what kind of law enforcement division he will establish, Smith said he focuses on being an ingrained and beloved part of the community. To him, earning public trust and confidence are the most important factors contributing to a public sense of police legitimacy, he explained. Every connection they have with a member of the community is an opportunity to build trust, or lose it, and so he stresses with each of his officers that everyone be treated with respect and dignity.
His Division will have their standard goals, to be where the public needs the service the most, to embrace partnerships and to focus on the complex needs of the city. But those are really the high-level expectations, Smith said. On the ground everyday, there are different things to be done – traffic safety, calls for service and neighbourhood community officers on the beat seven days a week connecting with the community and businesses. So, it doesn't lend to a specific template he could outline now as his direction will adapt while he learns more about his new surroundings. As well he must deal with all the change due to COVID-19, including changes in process, reporting, how you clean your vehicle, how they release prisoners and more.
"It's a host of different changes," he said. "What's consistent and what I try to have is to show that I support and assist our members through change. We have to invest in our people and show the community we can be resilient, get through the changes due to COVID and still be out there delivering our services."
Looking forward, he plans town halls with local officials to discuss local issues with residents but is in talks with them on how best to see those happen.
"We're doing a lot of virtual stuff, and you lose the personal body language you get, the personal connection when sitting around a room, but we have to adapt and connect with the community," he said, reinforcing for the community that while some things have to change, some also remain the same.
"We're doing our best to get through this COVID pandemic, but we're open for business. We'll never be closed. Call 911 for emergencies, and 416-808-222 for non-emergencies. If you have something to report, please report it and don't feel like you're inconveniencing us."