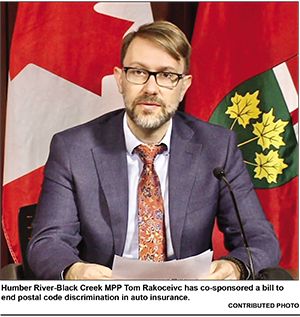 By Sean Delaney
Just before his re-election, c co-sponsored a bill to end postal code discrimination in car insurance in the GTA. Rakocevic has once again been named the official opposition critic for auto insurance.
"It was a bill that received all-party support and would have seen the end of postal code discrimination in the GTA, meaning savings to members of the Emery community and to all here in Humber River-Black Creek," Rakocevic said.
When the election happened, the government did not pass the bill into law, Rakocevic explained. Still, just a couple weeks ago, Premier Doug Ford stated that postal code discrimination is negatively impacting communities in the GTA, including his own.
Rakocevic has worked with Toronto police on accidents and where they are, he's worked with experts to find out why rates are the way they are, and he has concluded that Ontario drivers are being gouged.
"Certainly, in postal codes like ours, they're paying way more than they should have to pay."
Since his first election, Rakocevic has fought for, advocated for, and tabled his own bills on auto insurance, including one to take away profiteering. He co-sponsored this past bill, received the government's support, and he will re-table it now that the election has concluded.
"In light of the comments of the Premier that he will be taking action to end it, I will be counting on the support of the Premier and all members of provincial parliament to ensure that this becomes a reality and is passed into law."