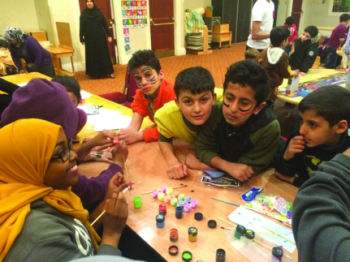 BY CST. AMIR BUTT
Recently, as a result of the latest Canadian humanitarian effort, 500 Syrian refugees were placed in the Toronto Plaza Hotel in the area of Jane Street and Wilson Avenue, 31 Division. Half of them were children and youth between the ages of one and 18. The children and youth were no different than their Canadian counterparts; they were full of energy and life.
However, the limited facilities and confinement inside the hotel due to the weather caused difficulties and anxiety within their living space.
The 31 Division's Community Police Liaison Committee (CPLC) was made aware of the situation and growing concerns over the safety and societal transition of the refugees was problematic. Anar Mehrraliyev, the lead authority for the CPLC Youth Subcommittee, along with Police Constable Amir Butt, 31 Division Community Police Liaison, met with Costi Immigrant Services staff to address the situation. Costi is the agency hired to provide food and services to the refugees. The involved parties decided to plan and organize interactive educational activities for the children.
Volunteers from the CPLC Youth Subcommittee representing a variety of cultural backgrounds came from local secondary schools. The volunteers decided to provide their time and care at no expense to help with the situation.
The plans for local humanitarian aid in the form of education and activities of integration were presented to the 31 Division Management team which received overwhelming support and encouragement for this initiative.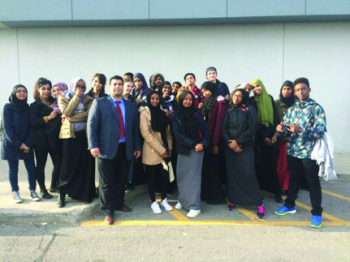 Inspector Riyaz Hussein the Co-Chair of 31 Division's CPLC said, "Recently we have had approximately 500 Syrian Refugees temporarily placed in our Division. Nearly half of them are youth, under the age of 18. I am sure that their recent arrival was accompanied with much change and upheaval. Youth can relate to youth, regardless of cultural background. Thus, anything our CPLC Youth-sub-committee can do to help in facilitating their adjustment to Canadian culture is very positive."
The interactive tutoring and activities for the Syrian Refugees will continue until they move to a permanent residence which hopefully will be sometime in the short future.