By Al Ruggero
At one o'clock on Thursday, April 13, the Emery Village BIA opened the doors to the first Emery Job Fair. Just outside, a gathering of people had arrived early in search of opportunities waiting for them. Some of the finest employers had set up their stands to welcome job seekers and present their cases about what they do and the nature of the positions they offer.
Looking back, it dawns on me that our nervous anticipation inside those doors matched the enthusiasm of the attendees who had traveled from near and far to explore the job opportunities, learn about the employers, and deliver their resumes. As they arrived, they were greeted at the front registration desk by Emery's Executive Director, Sandra Farina, who helped direct them to the employer stands and the positions they were most interested in.
"With close to 300 registrants here to see 14 employers at their stands, the day was incredible and rewarding," Sandra said. "I believe that success lies in drawing the interest and matching job candidates to the event and creating the right conditions for people to interact directly with employers with minimal barriers often faced by job seekers.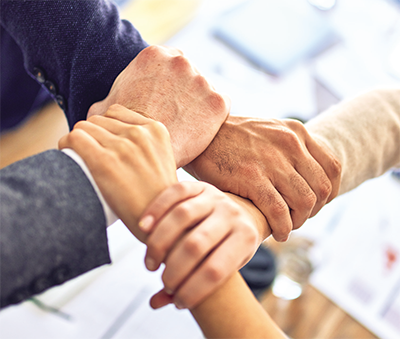 BIA staff had created the space to welcome visitors and employers in an upscale setting at the Pinecrest Event Centre (near Steeles Ave and Fenmar Dr.). Colorful signage, white tablecloths, and fantastic business displays (kudos to New Era Group) all helped to foster a relaxed, professional ambiance accommodating great conversations and information sharing. We received positive feedback from many job fair visitors and grateful employers throughout the day.
One visitor, Muhammed, mentioned that as a regular job fair visitor, he was genuinely impressed with our event, specifically mentioning the fair having, "company signs with the job titles posted."
While the Emery Village BIA has organized all types of events in the past years, including charitable fundraisers, annual Remembrance Day ceremonies, popular Movie-in-the-Park nights, bike-a-thons, over-the-top charity golf tournaments and others, this was the BIA's first job fair. It should also be pointed out that we are not typically in the business of providing employment services. However, we do have a sweet spot in our mandate that enables us to serve the interests of our businesses while raising awareness of how integral our businesses are to the economic health and well-being of our residential communities.
Above all, we are grateful for the support and participation of our member businesses - that made the job fair possible. And to our job fair community partners, especially COSTI Employment Services, whose staff provided job seekers and employers with additional resource links and critical information regarding placement assistance, programs, and counseling. Special thanks to Upper Crust Bakery for having tasty pastry snacks at their booth and to Mosaic Transit for their enthusiasm, marketing themselves with unique Finch West LRT "bling" for everyone to take home.