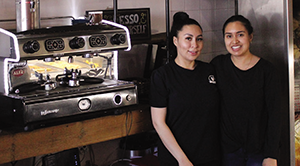 By Sean Delaney
Nathaly and Dianna Coronel love traditional Portuguese food. And the Churrasqueira Sao Miguel restaurant owners have brought their passion to Emery Village.
"We are thankful to our loyal customers and the Emery community for all their support. We are so grateful for all the great relationships we have built along the way. It fills our hearts with so much joy as we continue to connect with families in Emery village through something that our family is very passionate about, food. Thank you for choosing Churrasqueira Sao Miguel for all your special occasions. Getting to know all of our beautiful neighbours has been nothing but an honour and a privilege. We can't wait to see what the next few years have in store; all we know is that we will continue to be devoted to excellent customer service, delivering quality food to all our customers, and providing a bright and welcoming ambiance," they said.
Help them celebrate their anniversary by joining them on May 19th for $6 Quarter Chicken meals from 12 p.m. to 9 p.m. (In-store Only)
If you haven't experienced Portuguese food at its finest, Churrasqueira São Miguel is a traditional establishment serving rotisserie and grilled chicken, potatoes and rice, and specialties.
"We take our time preparing our dishes," they said. "There's no rush, rush, rush. And while it might take more time, we think our customers appreciate some of the best food in Emery."
2831 Weston Rd,
416-741-0057
info@churrasqueirasaomiguel.ca
Monday to Saturday: 11:30 a.m. to 8:30 p.m.
Now Open Sunday: 12:00 p.m. to 6:00 p.m.