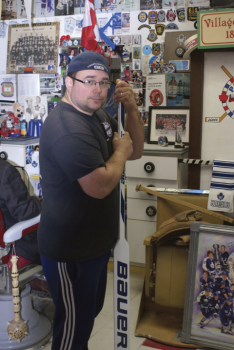 By Sean Delaney
The sign out front says Peter's Barber Shop, but inside looks more like a hockey museum.
Blue Maple Leafs line the floor and ceiling. Hockey pennants hang from the ceiling. Framed pictures of hockey greats who have visited the Weston Road and Lawrence Avenue shop line one wall. Seats from Maple Leaf Gardens rest close to the hair cutting area. A turnstile greets customers. Come for the great hair cut, stay for the history lesson.
A delight in Weston Village is Peter's Barber Shop, a classic through and through, the shop was a transition of shop owner Peter Kalamaris' fathers skills from Greece brought straight to Toronto.
"My father opened the shop because that was his trade in Greece, but he also opened Sun Crisp Fish and Chips and P and M restaurant," closer to Emery Village he said.
The first family member to make the trip, Peter Sr. sponsored his siblings and handed the various businesses to various brothers.
A family owned and operated business that's grown and thrived on word of mouth, Peter is just grateful for the friends they've made all over the GTA.
"We have people coming from all over, Georgetown, Weston, Downsview, Mimico, we still have customers from 1958," he said. "People tell their friends, like enjoying that commercial from way back."
And not only can customers enjoy a great haircut and a history lesson on the area, but a history class on the city's favourite sons.
"The Leafs used to play out of Weston arena," Peter said, walking out of the back with an autographed Johnny Bower stick, or a James Reimer.
"Reims' didn't have the time to tape it up for me." Many hockey legends have passed through the shop's doors over the years, including Dave Keon, Gordie Howe, Tony Esposito, Red Kelly, Bob Nevin and Jacques Lemaine, whose pictures hang on the wall.
Please check out Peters' Barbershop. You may have to stick handle through the line up!
#4 John St. Weston Village.