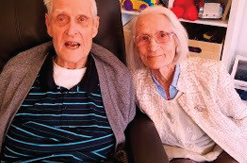 By Tim Lambrinos
There are many milestones in life that a couple can reach together but only a few are uniquely outstanding. The diamond wedding anniversary (the original one) celebrates 75 years of married life.
For those couples who reach it, this rare occasion offers them an amazing chance to reminisce on almost a lifetime together – filled with wonderful happy memories. And hopefully, their memory of all the disagreements will have vanished with time.
On September 1, 2020, Bill and Dorothy Cowie of Humberlea will reach that unbelievable goal of spending three quarters of a century together in wedded bliss.
Bill was born in Nappanee, Ontario in 1927 and was raised, along with his siblings, by his grandmother and grandfather. He enjoyed being brought up in the peaceful surroundings of eastern Ontario. It was a magical childhood filled with fun that revolved around a converted World War 1 airplane hangar that had become the town's indoor hockey arena.
In his teen years, Bill's grandmother became too ill to take care of the children and he was relocated to live with his mother and stepfather in downtown Toronto. Their home was located on Shaw Street near Dufferin and Bloor.
Being ambitious, Cowie completed his high school education in the evenings at Central Technical School while working days at the Ideal Wonder Bread factory.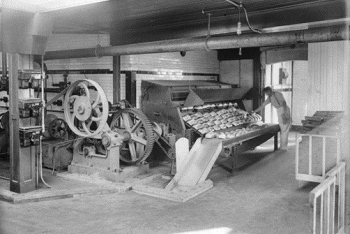 The factory was located on the northeast corner of Dovercourt and Argyle Street and still stands today having been converted into high-end residential lofts in 2007. This is where Cowie would meet the love of his life while working as a driver of a horse-drawn wagon that delivered fresh bread. His wagon's route travelled along Caledonia Road from St. Clair to Rogers.
At the factory, a young girl named Dorothy Hicks was working as a general labourer and mainly packed and prepared shipments for Cowie's deliveries. She was smitten with this confident young man and thought Cowie to be tall, dark and handsome.
The couple's young love blossomed and in 1945, Bill and Dorothy decided to get married. Still under 18, Dorothy required her father's permission to do so.
A year later a son, Bill Jr., was welcomed.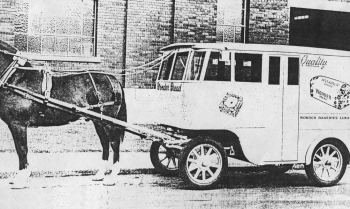 By 1949, with thoughts of an expanding family and the need for a larger home, Cowie saw an advertisement in the Toronto Star listing new homes for sale near Weston Road and Wilson.
The Cowies drove out to investigate the opportunity and met with Harry and Lillian Collins. They were building houses on a new street named Fanny Clark Boulevard and the Cowies were shown lot No. 201. This house was one of the first 10 new homes built over the former land of the Caulfield Dairy Farm. Plans for a brand new school, to be named Melody Road Public School, added to the appeal of their relocation. Bill and Dorothy bought the house and moved in with their four year old son Bill on October 16, 1950.
Not overly crazy about the name of their new street, the residents petitioned to change it to Yorkdale Crescent. The Township of North York approved the change in 1951.
When the Ideal bread factory closed, Bill became a milkman and drove a Divco delivery van to bring fresh bottled milk to residential houses. In those days, fresh milk was delivered door to door with the empties set out on the veranda – one empty bottle meant the house needed one, two empties meant two.
Customers often used prepaid milk tickets which simplified transactions in the delivery process.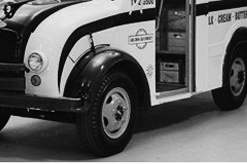 In 1956, Cowie began working at the Donlands Dairy where he would deliver heavy polybags of soft-serve dairy products.
The delivery truck was substantially larger than the Divco delivery van and some of his assignments were known as "mud routes."
These routes often became treacherous when rain soaked the roads and the heavily loaded trucks had to slog their way through with great difficulty. Cowie's deliveries included milk shake and ice cream mixes and other dairy products that were in large polybags. Dairy Queen was his primary customer on his wholesale delivery route that eventually expanded to include McDonald's restaurants too.
Cowie's work assignment shows that during the time of their marriage, they experienced significant change in industrial technology in business. Seeing first-hand the changes from residential ice-boxes to home refrigerators and from horse-drawn wagons to motorized delivering vans and trucks.
On Yorkdale Crescent, things really did work out quite well, both professionally and personally, for the Cowies.
Their family expanded to include two more children and their extended family's involvement in law enforcement and the Canadian Armed Forces has been a source of great pride.
The Cowies are true survivors, because they are the last of the original home-buyers from 70 years ago that remain on their street. Furthermore, their pride rises to even greater heights when they consider the love and care from their three children. It's amazing to see how roles reverse later in life.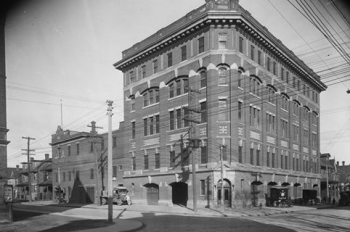 As Bill and Dorothy approach celebrating their illustrious day on the first of September, they are both reflective on their time spent together.
Dorothy wants to express her gratitude to all of the community's nice friends and neighbours and the wonderful children that have grown up there.
"If I ever had to marry her again, you bet I would," Bill confidently proclaimed.
They endure as a true testament of love, devotion and companionship, and are one amazing couple.
Happy diamond anniversary Bill and Dorothy.