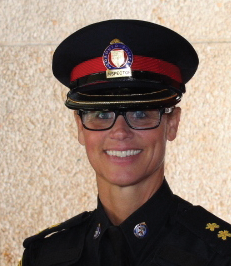 By Sean Delaney
Commander Lisa Crooker has come home. She began her policing career in Emery in 1997, doing three years as a recruit and five years of constable time.
"Coming back as a unit commander has been fantastic. I've come home. I'm very familiar with the Jane and Finch area. The community has changed, but I'm excited to be back and excited to be part of this community, for the things we can develop and grow here, especially with our youth."
Crooker said her focus is integrating leadership and mentoring skills.
"The youth are our future, and I'm particularly interested in making investments there."
Make Your Future 2 was an exciting event she said, and showed the potential of community partnerships.
She also spoke highly of her staff, saying the people of 31 Division have been incredible.
"The men and women that make 31 Division love their community. They serve their community well. Anything I can do to support that, that's my job," she said.
Getting out into the community will be a priority as she has only been in her post a month.
"I do have some shows to fill, Colin Greenway did a phenomenal job here, and it's a well-oiled machine."
Crooker has attended a first CPLC meeting, and reached out to schools and principals. She said the goal in the next month is more the face time, getting out into the community and letting people get to know her.
"I'm more of the meeting and connecting face-to-face person. Meeting the people and going to businesses and letting them know who they can contact. Continuing those partnerships."