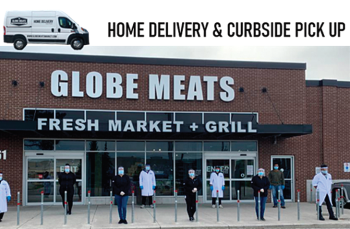 By Sean Delaney
Dante Dibiase refuses to acknowledge the word 'hero' however many in the Emery Village neighbourhood might use the adjective for the man and his business, Globe Meats Fresh Market and Grill.
Because despite being a local and reputable butcher shop, when the coronavirus pandemic hit, and Dibiase saw a community in need, his business quickly adapted to serve those needs.
"I don't really consider it a hero story," he said. "It's more of a, we're central, and we just carried forward what we've been doing the last 40 years."
Dibiase said Globe Meats' goal is to always provide their customers with the best quality and the best value, but when coronavirus hit, he expanded his offerings to fill needs for his customers.
"We're not a supermarket; we're a butcher shop," he said. "But with this whole pandemic, everyone was struggling with produce."
And produce, he said, is something Globe Meats had been looking at in the past. With many supermarket chains weeks away from being able to establish safe curbside pickup and delivery routines, Dibiase and his staff adapted almost immediately. They've been open seven days a week, with staff on strict rotations to ensure everyone's safety and health.
They're taking same day orders, have converted their restaurant into an online store and pantry, and have created spaces for picking stations and order stations.
They are policing social distancing rules within their stores to ensure the safety of customers and staff and to make everyone is safe and comfortable. For those that want to shop local and are worried about the crowds at the big box stores, Globe Meats has everything covered.
Find them at: 61 Signet Drive.
Call them at: 416-745-7000
Or order online at: www.globemeatsmarket.com