Easter in the park a sense of normalcy amid a pandemic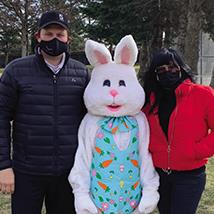 By Sean Delaney Easter is a time for celebration and for everyone to join together and enjoy a sense of community and many were looking for signals that normalcy was returning. To be able to celebrate the fun side of Easter, offering hope that things were headed in the right direction. In order...
Having fun helping others

By Sean Delaney Great ideas are sometimes driven by necessity. If the City of Toronto cancelled Halloween Trick or Treating, where could families in need get candy so their children could enjoy the occasion? Mike Verrelli and Brigette Contento had an epiphany and created a Food Drive that incl...