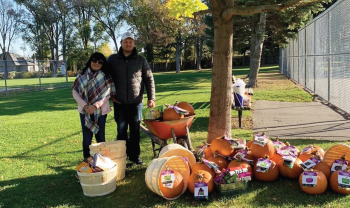 By Sean Delaney
Great ideas are sometimes driven by necessity. If the City of Toronto cancelled Halloween Trick or Treating, where could families in need get candy so their children could enjoy the occasion?
Mike Verrelli and Brigette Contento had an epiphany and created a Food Drive that included a Halloween candy component.
Held over two weekends before Halloween, residents were asked to donate food and candy, and in return, they received a free pumpkin, many of them pre-decorated. The first annual event was a huge success.
In fact, there were enough candy supplies donated to service all families identified for the drive, and allow Weston Area Emergency Support (WAES) to continue to hand out treats for weeks after.
It's a reason to recognize Verrelli and Contento for their dedication and innovation in helping others in need.