By Sean Delaney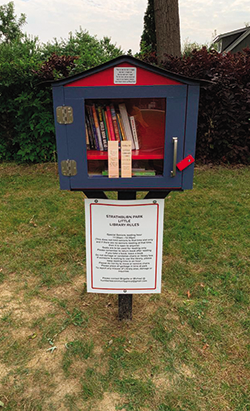 Two years in the making and it was worth the wait. What a day and what an incredible community we are so fortunate to be a part of. Together with the love and care from our community and the passion and perseverance we both share to keep unity within our neighbourhood, Strathburn Park has its very own little free library.
"The park was flooded with smiles and overwhelming excitement to begin using our library. Watching you all is all we needed to know that this was indeed an incredible asset to our park," said community activist Mike Verrelli.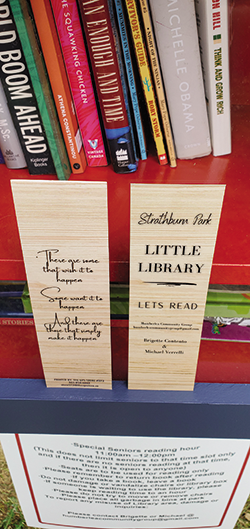 "It takes a village, and our village, Humberlea communities village, came together to make this happen. A big thank you to all who contributed," said Brigette Contento. "The community unity and spirit involved helps make this library all the more special."
Sal Scarito and Fabrizio Taranto, Lamitic signs, UPS store 272, Sara and Sima, Claudio and Luca Petitti, City workers, Steve and Anna Verrelli and Michael Contento – author of The bottom line, grew up in the community – Vito Parrotta, Grace Nesci, Rigo Solano, Alessia Bucci and Mata Capani are all credited with contributing to the project. Thanks were also noted for flyer deliverers and all those who donated first books.
And to our amazing community, thank you for always coming out to support us," Verelli said.
Contento and Verrelli, with the Humberlea community group are doing a pumpkin giveaway on Saturday, October 15, at Strathburn Park from 10 a.m. to noon and Joseph Bannon park from 12:30 p.m. to 230 p.m. Please bring the entire family and enjoy.