Keep active Emery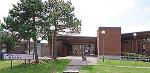 Free Community Events to be held at the Humber Summit Library at 2990 Islington Avenue, Toronto Toddler Time 10:30 a.m. to 11:30 a.m. on recurring dates listed below Stories, rhymes, and activities for toddlers 19 months to three years with their parents or caregivers. No registration is requir...
Councillor's Corner - Aug 2019

End of summer and back to school Now that students are back in school and the fall season is fast approaching, I would like to take the time to inform you of a few programs and upcoming events that are happening in Humber River-Black Creek. Black Creek Pioneer Village is hosting a few autumn-...