Skating in Humberlea to honour a hero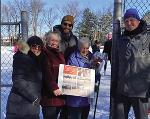 By Sean Delaney As many of you may know, Gordon Kerr, a cherished resident of the Humberlea Community who lived on Strathburn Boulevard, took on the enormous task of flooding both area arenas from 1966 to 1997. That meant many long evenings, being out in freezing temperatures and working away, ...
A Community that cares

By Sean Delaney Community champions Mike Verrelli and Brigette Contento organized a second annual food drive, including a Halloween candy component. Held on Saturday, October 15, at both Stratburn and Joseph Bannon Parks, residents were asked to donate food and candy, and in return received a free ...