Milani's Italian Gardens
The present name of Italian Gardens appropriately labels a shopping plaza that exists on the east side of Islington Avenue at Satterly Boulevard, right in the heart of Humber Summit. However, the name Italian Gardens actually came from a specific phase in the remarkable story of Emery Village and the BIA itself.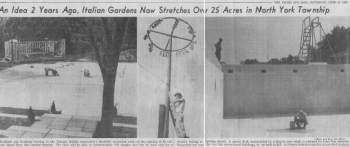 Back in 1954, Hurricane Hazel ripped through our community leaving a path of destruction and a virtual disaster-zone of Emery Village and Humber Summit. Not long after, Emery Village was visited by Italian immigrant and builder Camillo Domenico Milani who envisioned not only rebuilding the community but to construct the largest industrial and commercial area that our country had ever seen. Milani's ambitious plan ultimately came to fruition because of his hard-work ethic, determination and charisma. His resulting great wealth can be attributed to establishing a financial partnership with trusted business and monetary backer, J.C. Vanhuse.
In the mid to late 1950's, the two men laid out all the water mains, industrial roads and constructed the majority of the present day buildings and factories that currently operate within the boundaries of the Emery Village BIA. Milani's hard work ultimately provided many new construction, retail and factory job opportunities for new residents to move into newly built subdivisions, beginning in the sixties.
It was also because of Milani's financial success that he decided to give something back to the community by making an exciting, attractive and enticing feature to Emery Village's newly built communities. He wanted to showcase a new characteristic, particularly to new Italian-Canadians and their young families as enticement to relocate to our community from existing subdivisions in downtown Toronto. He wanted to make the new community feature attractiveness and be leisurely so he began to plan building a large recreational complex, chiefly intended for new Italian families.
Milani was possibly inspired by the name of another facility that had been built nearby in the 50s by Lawrence Swanek of Weston that had three Olympic sized swimming pools. Merilyn Gardens of Vaughan was situated on Weston Road between Highway 400, north of Steeles Avenue immediately south of the 400 drive-in theatre. This recreational facility was never opened for long, apparently because of the poor filtration system that couldn't sufficiently filter such a large outdoor swimming complex. Milani had unearthed part of a name for his own new recreational complex for the area but he needed a perfect spot where he could construct it.
In 1958, Milani purchased the farmhouse and the surrounding 150 acre farm from William Joseph Rowntree on the north east corner of Islington and Finch Avenue. This was the land originally homesteaded by Emily and William Henry Rowntree. Young Marion Rowntree, who grew up in the Rowntree farmhouse, was 18 at the time and she was then required to move to nearby Weston where she began teaching school a couple of years later.
The Rowntree property was to become Milani's brand-new and exclusive recreational facility. Before the original farmhouse was destroyed in 1959 to make room for Milani's modern buildings, Marion Rowntree remembers receiving an impromptu phone call from Milani himself who was curious to find out how the working toilet and all the other drains in the house, worked and where they all drained to. Marion explained to Milani that the Rowntree house had a very multifaceted system that merely drained off down the hill to a lower level all through weeping tiles. Milani went to work but first had to do an enormous amount of excavation and levelling of the protruding hills on the site to engineer his project to life.
Construction was finally completed and the brand-new Italian Gardens recreational facility and complex was in full swing by the summer of 1960 on 25 acres of the former Rowntree farm.
Rocco Di Giovanni , an Emery resident and President of the North Islington Seniors Club , emigrated to Canada when he was just 18 years old. He remembers the Italian Gardens very well. As a frequent visitor to the Gardens he fondly remembers all the dances he attended along with playing Bocce and watching bicycle races, soccer games and even boxing matches as the Gardens had its own boxing ring. Rocco says that on any busy weekend you could see 3,000 to 4,000 Italians there. Many young people also found love at the Italian gardens and later married.
"It was a grand old time," he said.
A large swimming pool was built at the Italian Gardens (pictured below) .
The Italian Gardens facility was closed after just around 10 years of tradition when new homes along Milady Drive and the Swiss Courts apartments along Islington were constructed.
This new construction turned over the soil of this glorious and fantastic part of our community history. Today, the Gord and Irene Risk Community Centre, rink and pool carries on the tradition of recreation for the community at-large and is built very close to Milani's original Italian Gardens.