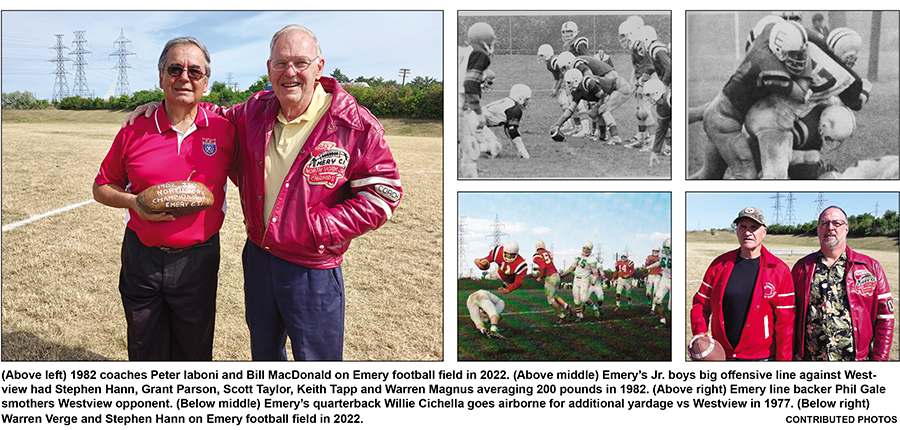 Yesterday and Today
Emery's first football championship
By Tim Lambrinos
There are times when reminders of great accomplishments occur. Football is a team sport where memories of championship victories can be everlasting. And sometimes when an elusive championship is achieved, memories can be ones marked for the ages.
The tradition of football at Emery Collegiate began in 1962 when a senior boys' football team was formed by teachers Baz Mackie and William Madden.
For many years the North York Championship game was never reached by a senior team from Emery. That's until Gary Cranmer's team challenged for the city title against the Victoria Park Panthers in 1976.
That year, the '76 Hillmen were narrowly defeated by a single major score. Team MVP, Warren Verge, was recognized as the overall leader, excelling at both quarterback and safety and handling punts as well. In both 1988 and 1990, Emery Sr. Hillmen did make it to the finals. However, both times the senior Hillmen lost to Victoria Park by wide margins, 41 to six and 41 to seven, respectively. Arguably, the '76 Hillmen remain as Emery's best senior boys' football team ever assembled.
And then there were additional Emery teams that dared to challenge for a North York championship. Not as senior but in junior football. The first Emery junior team that challenged for the championship was in 1977. The team featured outstanding offensive play by Willie Cichella, Frank Principe, Mike Paravani and Mike Valescuro. They lost to Boylen in the finals by a score of 19 to six. Then, after a brief four-year hiatus with no junior football teams, Emery's Jr. team was resurrected by coach Bill MacDonald for the '81 season. Their regular season ended with a record of two wins and three losses.
But when September of 1982 rolled around, it was evident that Emery had a group of young men ready to compete for a junior title. The squad had 35 youngsters with most returning after spending a full year buried on Emery's depth charts. And these newly designated veterans were now ready to take full advantage. Dedicated and enthusiastic were the words used to describe them from the opening day of training camp. Outsiders looking in could sense there was a fresh vibe in the air.
This is the account of the first championship ever won by an Emery football team. This team is set to have a 40th anniversary reunion this year so they may reflect upon that remarkable season from forty years ago. Should you be a former player from the '82 team and want to know about their football reunion, Stephen Hann can be reached at:
stephenhann28@gmail.com
Or Mr. Iaboni at:
piaboni@sympatico.ca
Interestingly, Emery's Jr. Hillmen attempted to duplicate the championship in 1983. They fell short in the final losing to Boylen by a score of 28 to 27. Another junior team was in the final three seasons later. In 1985, Emery Jr. Hillmen avenged themselves by defeating Boylen for the title by a score of 26 to 19.
In 1982, Emery's junior team had assembled a new exciting offense with Paul Gregoris at quarterback, Roger Hubbard at running back and David Culp at tight end. The offensive line returned sturdy veterans Stephen Hann at tackle, Grant Parson and Keith Tapp as guards, Scott Taylor at centre and Warren Magnus actually playing both ways. The defensive line revealed considerable strength and stamina with Vic Spano and Frank Clark as tackles and Ross Cowling at defensive end. Phil Gale and David Wyville were linebackers and Jerry Lollino played deep in Emery's defensive secondary.
For nearly 10 years Mr. Bill MacDonald, who was a history teacher from the junior high, had been committed to help guide a team to a championship. He was originally from St. Thomas, Ontario, attended U.W.O. and received training in the Royal Canadian Armed Forces. Also in 1982, guidance counsellor Mr. Peter Iaboni volunteered as coach. He originally played football for Downsview and had previous coaching experience at Bathurst Heights.
Emery got off to a great start as they seemed to be able to administer their size and strength at will.

Their muscle was particularly evident and complimented by a surplus of young men of Italian heritage filling out Emery's roster. By the end of five regular season games, the team was undefeated and scored 134 points for and had 31 points scored against them.
Going into the playoffs, the players had become motivated by a locker-room song called, The Eye of the Tiger.
The quarter-final playoff game against Don Mills turned out to be nothing more than a warm-up for the Jr. Hillmen as they buried Don Mills by a score of 31 to zero. In the semifinal match, the team from Vanier offered a bit stiffer competition as Emery was victorious with a hard-fought win, 13 to seven. For the second time in five years, Emery had secured a spot in the North York Junior Football Championship. This time to challenge against Victoria Park.
The championship game was held on a cold and brisk mid-November day at Northview Height's Esther Shiner stadium. After trailing early in the game, the Jr. Hillmen fought back to go up on top at halftime by a score of 16 to nine. As the second half got under way, the Victoria Park Panthers seemed to match the toughness of Emery's team and scored a TD. The remainder of the game became more of a smash-mouth welterweight prize fight than a boys' football game. Both teams became engaged in a battle of the trenches while executing tough defensive stands. At the end of regulation, the scoreboard showed the game tied at 16.
The game officials huddled around and decided to call for the first ever overtime period in North York history. The air around the stadium became filled with electrifying excitement, both in the stands and on the sidelines. The tension mounted after a scoreless first overtime period ended with no additional scoring.
A second huddle by game officials resulted in a second five-minute overtime period in order to declare a victor. These five minutes of play seemed to last an eternity for the players, coaches and fans. The uncertainty of what would happen next seemed to dwell heavily on each play.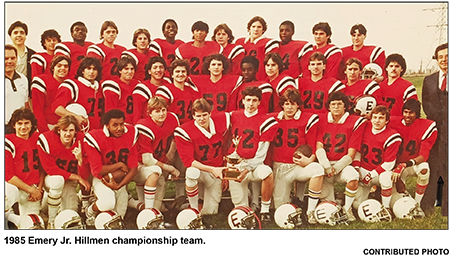 When the final whistle blew ending the game, the scoreboard showed an 18 to 16 victory for Emery. A Hillmen football championship had finally become a reality.
The emotions expressed on the faces of Emery's coaches were enough to describe the feelings of the entire team. Tears of joy could be seen trickling from the eyes of coach, Bill MacDonald.
The on-field celebration that occurred by the players and spectators was a spectacle that can never be forgotten. Emery's Jr. Hillmen football team had proudly won their first ever, but not last, championship trophy.
These days both the junior and senior football programs at Emery Collegiate have been defunct for about 10 years. And the team is no longer called the Hillmen but the Eagles. However, Stephen Hann from the '82 junior squad championship team and Warren Verge from the '76 senior squad finalists still managed to find some time to venture out onto Emery's football field where all these victories occurred so many years ago. As did Mr. Iaboni and Mr. MacDonald.
Of course, they were still proudly wearing their individual Hillmen jackets in order to continue carrying on those great memories from Emery's past. And to look up into the sky and remember.