By Sean Delaney
Thanks to a last minute decision by Toronto's council one of Canada's oldest trees, a towering red oak believed to be more than 250 years old, will be saved for future generations.
On November 26, council voted to preserve the tree and purchase the property to create a parkette. The tree is already recognized as a heritage tree under Forests Ontario's Heritage Tree Program. The oak's branches span 78 feet (24 metres) with a trunk circumference of over 17 feet ( five metres).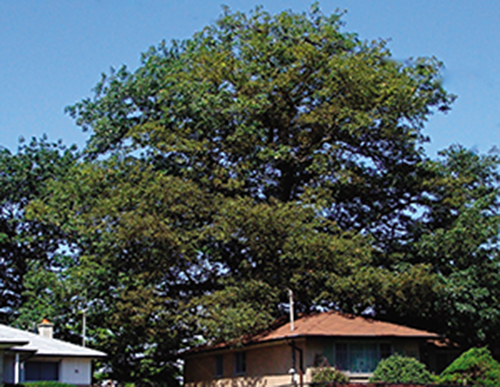 Despite 1,300 donors, fundraising was short, but the city has pledged to make up any shortfall to secure the purchase. A commemorative plaque placed a decade ago by Heritage Toronto describes the tree's history.
"The large red oak (Quercus rubra) situated in the backyard of 76 Coral Gable Drive is more than 250 years old, making it one of the oldest in the city.
The tree survived European settlement despite logging along the Humber River, clearance of the land for agriculture, and developing this suburban neighbourhood in the early 1960s.
And there are community benefits to preserving and fostering canopy cover, including reducing fine particulate matter air pollution, providing habitat for wildlife, reducing storm-water runoff, sequestering carbon from the atmosphere and providing a link to the natural history of the area. In 2020, it was calculated that this oak stores 2.5 tons of carbon dioxide per year.