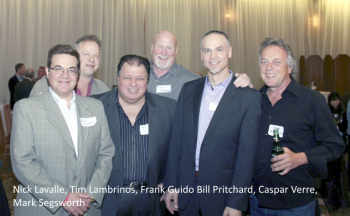 By Sean Delaney
That's the fun of going to a high school reunion – seeing the people you were close to all those years ago, and re-exploring the relationships of the past. Oh and throw in some pre-event anxieties. Do I look the same? Am I bigger? Am I grayer? What should I wear? Will my old girlfriend be there? And then the countdown to the big event! It's game night!
The 55th anniversary of the opening of Emery Collegiate was held on May 14, at the Famèe Furlane Banquet Hall near Islington and Steeles. It was organized by a committee of former Emery students including Naz Marchese, Barbara Mitchell, Steve Hawken, Pat Peckham, Jackie Keatings, Jean DeCastro and Walter Rigobon.
Let's all give a big shout out to Naz and the Committee.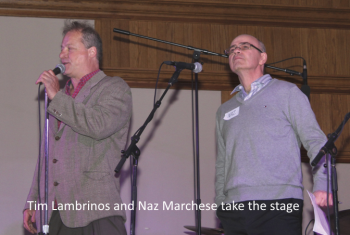 The evening had live entertainment performed by former Emery musicians with Bill Nadeau opening the evening with an electric blast from his guitar. Artists Alfie Zappacosta, Lou Pomanti, Claudio Vena, Peter Mueller, Virgil Scott, Henryk Riik, Nick Sinopoli and Terry Draper continued the beat. Perhaps something in the water from Emery Creek to produce that much talent? No it's likely the much-loved music teacher and mentor of many, Baird Knechtell.
Shortly after 6 p.m., the banquet hall was jam-packed with over 400 former students. Notable attendees in the crowd included former 1960's Principal and fearless leader, Allen S. Merritt. Others
included former teachers Miss Doris Manetta and Mr. Baird Knechtel. Famous Emery sports personalities included the celebrated Canadian boxer, Donovan "Razor" Ruddock. Razor's date for the evening was his always gorgeous and vibrant wife, Tritcha-Anne.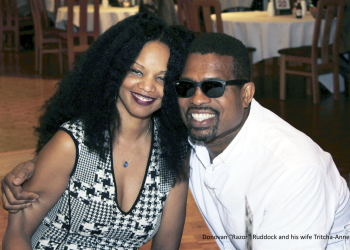 A video reel played throughout the night showing, slightly dated, (50 years or better) photographs over the big screen. Virgil Scott and the Innocence Band played some bouncing numbers, and they seemed to be quite willing to stay and play the entire night. They may be a bit older now, but the possee of revelers seemed to have more energy than ever. Notable dance floor personalities included Kim Mahoney and Diane Brown, who seemed to rule the dance floor for much of the evening.
The event organizing committee had worked so diligently to put together such a great night and finally had their chance to sit back and join in on some of the fun too. The Famèe Furlane staff truly accommodated everyone throughout the evening. Proudly, Patrice Hickey held the distinction of closing the night by taking her selfie, being the last person to leave.