Thanksgiving celebrations should include giving back to those in need
BY SAYADA NABI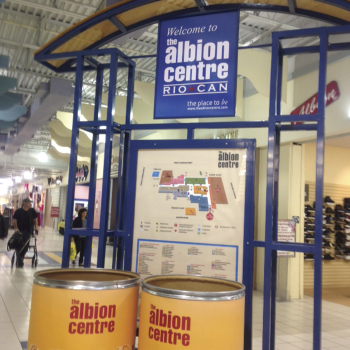 Thanksgiving has been celebrated in Canada on the second Monday of October since 1957. Marking the beginning of the holiday season, this is a time for harvest, appreciating family and reflecting on all the blessings in our lives. Traditionally a family surrounds a dining table decorated with a turkey dinner, and all the fixings. For many, the traditional Thanksgiving is far from their minds, due to a sudden job loss or domestic issues, and they look to food banks to help them get by for a little while. This particular time of year food banks highlight the prevalence of poverty and hunger in the community holding food drives around the area.
The Albion Centre Mall at Kipling and Finch was holding its 7th annual Thanksgiving food drive for the Ernestine's Women's shelter. Currently the shelter is home to 14 families and 18 children. Their main goal is to "support women and children achieve independence by breaking the cycle of violence." Once a family is well enough to support themselves, the shelter then assists that family in finding affordable housing in the community. Furthermore the shelter prides itself on the 24-hour crisis line (416-746-3701), where there is a counselor on hand to answer the phone at all times- not an answering machine. In addition to supporting the 14 families in the shelter, they are also supporting close to 100 families that have previously used the shelter and need further assistance. Given the large number of individuals that rely on this shelter, food and clothing donations are always welcome.
The North York Harvest Food Bank reports that an average of 6,000 people visit them each month, and there has been a 38% increase in visits to the food banks since the 2012 rescission. The majority of clients who use the food bank are newcomers to Canada, and two-thirds of the clients use the food bank for a year or less. The main reason clients' use these food banks is the high cost of living; they live on a low income in a high cost city and 75% of their monthly income goes to rent. Approximately 25-30% of a given income should be put towards the monthly housing costs, and this is an equation used by Toronto Community Housing (TCH). The issue is that supply outweighs demand, there are more people looking for affordable housing then the TCH can provide.
Looking at the statistics and increase of poverty within North York, the holiday season should not be the only time of year when we think about others. There will always be people in need, and we should donate whenever we can, not just one or two months out of the year.